[1:05 PM]karonus: My name is Steve Turner, I started RPG's in 1979 with AD&D 1st ed, after a few years as a wargamer (WW2, Napoleonic's then Ancients). Went from AD&D to Chivalry & Sorcery 2nd ed, Traveller, Rolemaster, Spacemaster, Space Opera and finally to AD&D 2nd ed. The Dragon Reaches of Marakush (our published fantasy campaign) started as a C&S2 game in 1982. I got involved in the early 90s with the RPGA, writing tournaments for Euro Gencon (one of which got converted and is published as Curse of the Casket) and becoming a RPGA Regional Director and TSR demonstrator. In 1997 I got the chance to be a licensee for HIghlander Designs, the then owners of C&S. We had just released our second product in 1999 when we got wind Highlander were in trouble so we bought the C&S IP. 2002 C&S The Rebirth (4th ed) was launched and then in 2019 we kickstarted the 5th edition which has resulted in more products than any other edition. (done)
[1:06 PM]Dan the GMshoe: Thanks, @karonus! The floor is open to questions!
[1:06 PM]Dan the GMshoe: What can you tell us about the setting of Chivarly & Sorcery?
[1:09 PM]karonus: Chivalry & Sorcery has as its primary setting the historical medieval period of Europe with all of its diversity, mostly known to academics but with C&S we bring the academic knowledge to gamers. We also have the Dragon Reaches of Marakush a Fantasy campaign. The Rules allow a range of play from purely historical with no magick to full blown fantasy. My own campaign I am running, now in its 3rd year, is set during the Anarchy of King Stephen and Matilda with the Fae being involved, the Seelie for Matilda, the Unseelie for King Stephen.
[1:12 PM]Dan the GMshoe: Can you give us some idea of how fantastical the game gets on full-blown fantasy setting?
[1:15 PM]karonus: Yes, anything you can do in other fantasy games you can do in C&S. The magick system allows for lots of diverse magick, and I believe can recreate the magick of any literature. We have undead, dragons, giants, trolls, you name it we can do it. The system does not have classes, it has vocations which a player can switch at any point. Skills dont get lost, they just lose the previous vocation bonus. You want a Mage using a sword, no problem, you want a knight who dabbles in Fire Magick, sure go ahead.
[1:16 PM]Dan the GMshoe: Do you allow for nonhuman PCs?
[1:16 PM]karonus: Most of the rules we regard as optional and fully expect players to house rule.
[1:17 PM]karonus: We allow for Elves, Dwarves, Goblins, Orcs, Trolls, Vampires and Lycanthropes as player characters. Briefly in the main core rule book but expanded on in the relevant sourcebooks. Just dont expect your Elves to be nice, based on the Sagas they are more Golden Army than Rivendell
[1:18 PM]Dan the GMshoe: Very cool!
[1:19 PM]Dan the GMshoe: How much research went into getting the Medieval feel right, and can you give us an idea of how extensive the setting info is in that regard?
[1:24 PM]karonus: We have been having a discussion on whether we should have included a bibliography in the core rules. I know Andy one of the other designers has 48 boxes of historical text books, he regularly trawls the pipe rolls and academia, I looked at Amazon, my aquisitions from Amazon in the last few years runs to a list 4 pages long. I am 15 ins walk from the ruins of a Cluniac Priory which is in the shadow of a castle that dates back to 1070 (and was the marital home of Lady Jane Grey) and was once considered as a prison for Mary Queen of Scots. Being UK based we have tons of research at our fingerprints. I visit the local archives and got to see the Papal Decree from 1138 relating to the Priory so was able to witness actual medieval seals and signatures.
[1:24 PM]karonus: Should be 15 mins
[1:25 PM]karonus: The setting in the book is very detailed and the sample campaign area is my local area based on the information in the Domesday book. Showing that the rules can directly relate to medieval information.
[1:26 PM]Dan the GMshoe: On the higher end of the fantasy scale, how does the introduction of magic affect the historical aspects of the setting?
[1:28 PM]karonus: The introduction of Magick can have a profound impact (players needing Pachouli Oil for example using portals to travel instantly from England to Palestine for example) but its down to the GM to look at using historical means to hamper them. Introduce the Inquisition early, no one expects the Inquisition.
1
[1:30 PM]karonus: At its heart the system has social status for all levels of the setting. My players fear the taxman, nothing like a peasant having an ornate book decorated with Gems of either stealing (hanging offence) or keeping treasure which belongs to the Crown (hanging offence)
[1:31 PM]Ferruccio: If I can post a question (your setting idea sounds super cool btw), can you give an overview of the mechanics? Are they unique to the game and how does it work, or is it OSR based, etc?
[1:32 PM]Dan the GMshoe: Yes, and can you share a character sheet with us before addressing the mechanics?
[1:35 PM]karonus: The game mechanic is unique to the game, Skillskape is a d100 skill system but uses a third d10 as an effect dice. 1 is low and 10 is high. You roll against a total success chance for the skill, any d10 (the crit die) roll of 10 is a critical. Skills have difficulty factors which limit the maximum chance of success, so no matter how powerful the mage is the chance to target a spell maxes out at 92% so they have a 10% miss rate. Other skills have differing max chances. As a GM writing scenarios it allows setting situations and listing the skills needed and having 20 potential outcomes. Its not B&W.
CS_5th_Edition_Character_Sheet.pdf7.25 MB
1
[1:37 PM]Dan the GMshoe: Very attractive character sheet!
1
1
[1:38 PM]karonus: In combat certain weapons give a bonus to the crit die, damage is fixed modified mostly by strength. There are three combat systems that you can choose from but in all cases Armour absorbs damage except in the case of a critical hit. As an option you can also bash an opponent, if you hit is strong enough (crit die) and you are heavy enough you can knock your opponent to his knees or prone or in the case of a Giant across the room.
[1:39 PM]Ferruccio: I like the addition of an effect die
[1:39 PM]Ferruccio: So the base d100 skill system is roll under a % of skill experience you have
[1:40 PM]Ferruccio: and the third d10 adds additional effects being possible
[1:40 PM]Dan the GMshoe: Does degree of success have any effect, or is that all up to the roll of the effect die?
[1:42 PM]karonus: @Ferruccio yes correct. @Dan the GMshoe the degree of success is down to the crit die. You gain experience but until its spent on improving skills or other uses it doesnt get added to your Experience Level total. Your experience level acts as a break on focusing on improving a single skill.
[1:42 PM]Dan the GMshoe: Can the game handle total scores in excess of 100%?
[1:43 PM]karonus: You can also use unspent experience points to buff your skill chance, or to avoid critical effects
[1:43 PM]Ferruccio: How is a difficulty determined or applied? Like in Call of Cthulhu for example it's 'hard' halves the %, and 'extreme' makes it 1/5th the %, etc
[1:44 PM]karonus: If a character has a total success chance over 100% you get a bonus to the crit die, increasing chances of a critical success or decreasing chances of a critical failure.
1
[1:47 PM]Dan the GMshoe: Can you describe the magic system?
[1:47 PM]karonus: @Ferruccio each skill is assigned a difficulty factor from 1 to 10. say a skill is DF 3 then unskilled the base chance is 30% but skilled its 40% to which is added level bonus (3% per level), attribute bonus and vocation bonus (10%) if the skill is key to their vocation, like Faith for Clergy.
@karonus@Ferruccio each skill is assigned a difficulty factor from 1 to 10. say a skill is DF 3 then unskilled the base chance is 30% but skilled its 40% to which is added level bonus (3% per level), attribute bonus and vocation bonus (10%) if the skill is key to their vocation, like Faith for Clergy.[1:49 PM]Ferruccio: Got it! That table makes is easy to understand
[1:51 PM]karonus: In Magick a Mage has to learn a spell, this involves "enchanting" the spell from its original Magick Resistance level (1 to 10) to zero. If he wants to cast a spell if nit fully learnt they must roll against their Method of Magick like Command or Illusion. They then must target the spell rolling against their Mode of Magick such as Enchanter, Elementalist etc. If a spell has been fully learnt they can cast automatically and simply target the spell. Spells are powered by fatigue (you have Body for physical damage and Fatigue for bruising and exertion etc). Fatigue can be recovered by resting. No spell slots here.
[1:52 PM]Dan the GMshoe: How "flashy" does magic get on the high end of the scale?
[1:52 PM]karonus: being able to enchant stuff is very important as its the way magick items are made. A simple item needs 7 components but a greater one needs 22.
@Dan the GMshoeHow "flashy" does magic get on the high end of the scale?[1:57 PM]karonus: Magick can get very flashy, so do you want your fireball to be normal fire, magick fire, salamander fire or Dragon fire. A very experienced Mage could create a Holocaust of Dragon Fire, 60 feet in diameter, doing 27 energy damage (an average character has 40 Body and it only increases by gaining levels in Conditioning) does a critical on a die roll of 5+ in which case it does an extra 27 points of damage (all ignoring armour) and lasts for 45 seconds or 3 combat rounds.
[1:58 PM]karonus: In this instance the Mage will have a 92% chance to target the spell and may well have a +5 on the crit die due to high skill level. Thus anything in the area will take 54 points of damage every combat round ignoring armour.
[1:59 PM]Dan the GMshoe: How many hit points does an average human have?
1
[2:03 PM]karonus: A mage has 36 Body, a Knight 46 an Old Firedrake 633 – its largely based on body mass
[2:04 PM]Ferruccio: So there are classes, or can anyone learn certain things by choosing the required skills or a field of knowledge / experience, etc?
@karonusA mage has 36 Body, a Knight 46 an Old Firedrake 633 – its largely based on body mass[2:04 PM]Ferruccio: That's one tough dragon!
1
[2:05 PM]karonus: We have vocations that you change at any point. Cadfael was a warrior who became a monk, never forgot how to use a sword but became rusty. In C&S a Warrior could have Slashing Sword a vocational skill and get a 10% bonus to his Skill chance. He becomes a Monk, sword skill is not a vocation so he loses that 10% bonus.
@FerruccioThat's one tough dragon![2:05 PM]Dan the GMshoe: That's why fights with them tend to drag on.
[2:06 PM]karonus: Each vocation has Primary Vocational skills that get the bonus and secondary skills. Anything not on the list you can learn as a hobby.
[2:08 PM]karonus: In C&S fights with Dragons last one phase – about 5 seconds. In combat we allow a main attack spending action points and you can spend fatigue to make a combination as long as 50% of you mobile limbs (1 leg in a biped, 2 in a quadraped) stay in contact with the ground. A human could do a sword strike, shield bash, head butt and a kick. A Dragon does breath weapon, bite, claw, claw, wing bash, wing bash, tail slap.
[2:08 PM]Dan the GMshoe: (brb — need to let the dog out)
[2:09 PM]karonus: The Old Dragon also has hide the equivalent of platemail
1
[2:11 PM]karonus: The old dragon bite has a 99% chance of hitting and does 31 slash damage plus the crit die roll (in combat the Crit Die is the random part of the damage. As an optional rule if you roll a 10 you can have it open ended)
[2:12 PM]karonus: Im a GM – I want my Dragons mean.
[2:13 PM]karonus: The game also has influence rules where you use your social status to influence people, or with bribes to gain audience with thos above your station. Dragons dont have Social Status but they have Avarice, you can influence a Dragon with cartloads of gold and gems.
[2:14 PM]Dan the GMshoe: (back, sorry)
[2:14 PM]Dan the GMshoe: Speaking of dragons, how extensive is the game's bestiary?
[2:14 PM]Ferruccio: But how does a fight with a dragon last only one phase?
[2:20 PM]karonus: In combat using action points each player rolls a D10 and adds to their base action points which on average is 12. You spend up to 10 in a combat phase. You go round in turn, the highest first, taking an action or combination of actions up to 10 Action points and deducting from their total. Next phase you go round again, but this time the order may have changed based on the cost of the previous actions. Its unlikely the players will kill the Dragon first, so its turn it uses magic, before spending fatigue and making an all out attack.
@Dan the GMshoeSpeaking of dragons, how extensive is the game's bestiary?[2:21 PM]karonus: The Bestiary is 41 pages long with most stats summarised.
[2:23 PM]Dan the GMshoe: Do you know roughly how many entries are in there?
[2:23 PM]karonus: Here are the contents pages
[2:24 PM]karonus: A lot of entries
Contents.pdf705.58 KB
[2:25 PM]Dan the GMshoe: Looks like that cuts off at page 4, but it's still impressive!
[2:26 PM]karonus: We left about 200 pages of stuff on the cutting room floor, some by mistake like all the poisons and diseases.
[2:27 PM]Dan the GMshoe: You mentioned 5e getting the most supplements of any edition. Do you have a list of those we can see?
[2:29 PM]karonus:
drivethru_1.pdf3.74 MB
[2:29 PM]karonus:
drivethru_2.pdf1.94 MB
[2:30 PM]Dan the GMshoe: Impressive!
[2:30 PM]Dan the GMshoe: How do you handle the matter of real-world historical religions?
[2:33 PM]karonus: As an Anglican I had some input into the Christianity part, we had a practising Jew write the Judaism section and a Female Muslim write the Islam section, so all parts were represented by their own adherents. With Christianity we include a Sins and Penance table based on historical sins of the period, which is optional but can be used by a GM as a hook in an adventure.
[2:34 PM]karonus: In land of the Rising Sun we introduce Shintoism and Buddhism into the mix. They can all be used as a guide for Fantasy religions which I will be using in the revision of Dragon Reaches of Marakush.
[2:35 PM]Dan the GMshoe: Do these religions provide any supernatural abilities or benefits?
[2:36 PM]karonus: We have Acts of Faith which can be accessed by all clergy, some are restricted not only by skill ability but also by rank within the religion. So a Vicar could have the Faith ability to Call back the Dying, but as he is not a Cardinal he is denied access to that Act of Faith.
[2:37 PM]karonus: Some Acts can be accessed by Witches, Druids and Shamans in their role as Priest-Mages, often known by different names.
[2:37 PM]Dan the GMshoe: Do those adherents use both Magick and Acts of Faith?
[2:38 PM]karonus: Yes
1
[2:39 PM]karonus: Witches enchant a cauldron as their magickal focus, into which they store all their spells. From this cauldron they can draw off a number of potions which contain their selected spells. Potions can be drunk and the spell cast or thrown and the spell activated with a command word.
[2:40 PM]Dan the GMshoe: Are your witches naturalist pagans or Satanic?
[2:43 PM]karonus: Pagans. We allow for Satanists in the form of the profane. Those who make a pact with Lucifer may access Profane Acts of Faith. These drain your Spirit Points (which unlike Acts of Faith can be regained) which can only be regained by sacrifices. Profane Acts of Faith are true hexes and many have command phrases which players have to recite from memory. Example "Ashak Ul Karak Nun Ashak" is the command for Finger of Death (remembered that without referring to the book)
[2:45 PM]Dan the GMshoe: Heh. Nice touch.
[2:45 PM]Dan the GMshoe: What is the relationship between the Divine and the Magickal, such as the Fey?
[2:47 PM]karonus: They are diametrically opposed
[2:48 PM]karonus: But again any GM can interpret this as they want for their game
[2:48 PM]karonus: And the Fae are not necessarily magickal. most Fae use the Witchcraft Mode of Magick so are in effect Priest-Mages
[2:49 PM]Dan the GMshoe: Interesting!
[2:52 PM]Dan the GMshoe: In the time remaining, is there anything we haven't covered that you'd like to bring up?
[2:57 PM]karonus: I would like to mention the Basic Rules we released last week. One of the things that new players to C&S find daunting is the detailed character generation. We make no apologies for that as it creates rounded characters with a place in a society. The actual game play is very slick and consistent, but we needed to get round the depth that was in building a character. So the Basic rules are what they say, the basics for Skillskape and the combat system. Simplified Magick and Acts of Faith that give a flavour of the main game but a very cut back character generation. I created a Mage in less than 30 minutes, in the full game you need a full session at least as there is that much detail. The idea is that by getting the idea of game play with your own characters you will be more interested in working through the main rule book. Hence the price of $1.99 for the PDF and $9.99 for the POD which will be released shortly.
[2:57 PM]Dan the GMshoe: Very cool!
[2:58 PM]Dan the GMshoe: Thanks very much for joining us, @karonus!
[2:58 PM]Dan the GMshoe: Usual reminder: If you've enjoyed this Q&A and would like to treat me to a coffee or two, you can do so at https://www.ko-fi.com/gmshoe. Anything's appreciated!
Ko-fiBuy Dan Davenport a Coffee. ko-fi.com/gmshoeBecome a supporter of Dan Davenport today! ❤️ Ko-fi lets you support the creators you love with no fees on donations.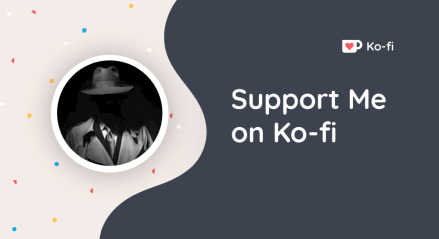 [2:58 PM]Dan the GMshoe: If you'll give me a minute here, I'll get the log posted and link you!
[2:58 PM]karonus: Cheers, hope that was informative