[8:03 PM]Narkov: Hello, my name is Mathew and I am one of three creators of Triskel-Fox Studios. We are the Creators of World Canvas. A World Building TTRPG thats built around a 3 skill slot system. We have included a world and a campaign to dive right into, however World Canvas at its core is intended to be a platform for you to create your own worlds and stories with. (Done)
[8:03 PM]Dan the GMshoe: Thanks, @Narkov! The floor is open to questions!
[8:04 PM]Dan the GMshoe: Do you consider this to be a fully generic system?
[8:06 PM]Narkov: Well there are some mechanics such as magic that might not be suitable for every world. Its expected that when players make new worlds they would pick and choose the mechanics available that fit within the world they have envisioned.
[8:12 PM]Narkov: For the included world The Cradle we focus quite heavily on the arcane side of things. The Cradle is an inverted world where deamons live upon the crust of the earth while the humanoid races of The Cradle live on the inside crust of the world. The Cradle is a Digital world of Magic and Swords, with 4 continents and multiple races living around the world.
[8:12 PM]Dan the GMshoe: What does a Digital world entail?
[8:15 PM]Narkov: In the Cradle the currency you can use is Bytes, there is also a difference in choice between whether you'd like to play as a player coming into the world from outside or rather you'd be an NPC within this world. This would greatly affect the knowledge available to your characters.
[8:16 PM]Dan the GMshoe: So is it a VR environment?
[8:18 PM]Narkov: Functionally yes. If you had decided to play as a "Player" rather than an NPC it would be very similair to VR. In a way where all the worlds laws and rules still apply to you but you have outsider knowledge.
[8:20 PM]Dan the GMshoe: What is the tech level of the setting?
[8:21 PM]Dan the GMshoe: (brb)
[8:22 PM]Narkov: The setting of The Cradle is not that advanced technologically. There would be no electricity where you go. There are basic Blackpowder firearms. In some locations you might see basic technologies mixed with magic that create the illusion of electricity or factories.
[8:25 PM]Dan the GMshoe: (back)
[8:25 PM]Dan the GMshoe: How common is magic, and how powerful does it get?
[8:31 PM]Narkov: Magic in the core rules is designed to be a viable combat alternative for more dexterous characters, and has both a number of damage-type spells, as well as a variety of status effect/environmental control magic. In The Cradle, magic is far more prevalent, there are dozens of new spells in the Cradle. Magic is a Teachable type of skill. Meaning that you cannot acquire all of the magic in the game just by leveling up and increasing your stats. You must find a teacher within the world to teach you most spells. Using this you can control how much magic is in your world. Teachers are much more available in The Cradle than other worlds we have created.
[8:36 PM]Narkov: As far as how powerful does it get. There is a little more powerful magic in The Cradle than the base rules. We balanced our magic alongside the higher level weapon skills. The magic gets quite powerful however usually tends towards being more utility. A good example would be an Arcanum 8 score skill. It allows you to swap the positions of all creatures within your long range. There are 9 Arcanum tiers in the Core rules and 10 in The Cradle.
[8:36 PM]Narkov: This doesnt mean that as a mage you would Lack Damage though.
[8:43 PM]Dan the GMshoe: Would it be fair to say that the game is somewhat tactical in nature?
[8:47 PM]Narkov: Absolutely! All of our measurements use real world measurements. Many of our skills benefit from spacing and positioning yourself in a tactical way. With good timing and teamwork you can allow some of our stronger yet harder to land skills do their full potential.
[8:48 PM]Dan the GMshoe: What is the cosmology of the Cradle? Are there gods, and if so, how active are they in daily life?
[8:52 PM]Narkov: In The Cradle gods are mostly symbolic. They don't have much affect upon the player or the inhabitants of the world on a daily basis. Aside from what may be done in the name of religion. While this is usually going to be the case, the gods of the world definitely have some sway on the world.
[8:53 PM]Narkov: Magic within the Cradle is thought to be granted by the gods by some. While others believe otherwise.
[8:54 PM]Dan the GMshoe: What races/species are available to play in the Cradle?
[8:56 PM]Narkov: The main races of the Cradle are the Humans, Elves, Dwarves, Gnomes, and Beastmen. You can however play as creatures from the beastiary if you so decide. Usually the restriction would be that the creature you choose is approved by the group and of major size. Major size being the standard size from most player characters.
[8:57 PM]Dan the GMshoe: Do you offer any interesting twists on Elves, Dwarves, and Gnomes? And what are Beastmen?
[9:03 PM]Narkov: Elves live in an underground city that looks similar to that of Venice. Dwarves mostly live in forests and craft heavy warships from their superior lumber. Gnomes live in a series of archipelagoes and live very relaxed and democratic lifestyles. Beastmen come in countless varieties. The beastmen of Felmiur A nation in the north are humanoid creatures with thick coats of fur. While the Beastmen of the Archipelagoes are scaly lizard like men.
[9:04 PM]Dan the GMshoe: Underground Elves and forest Dwarves. That's different, certainly.
[9:05 PM]Dan the GMshoe: (Well, there are the Drow, but they're the exception that proves the rule, so to speak.)
[9:06 PM]Narkov: Our included campaign Freedom in The Dark is focused on the Elves of the underground city fighting the demons that oppress their society.
[9:07 PM]Dan the GMshoe: Are the demons from the surface the main antagonists of the setting?
[9:09 PM]Narkov: Usually they are. However that's not exclusive. There is a lot of conflict within the nations already without the added threat of the Demons. For the most part the humanoids of The Cradle have isolated the Demon Wells (Massive Gates that link the inner and outer crust of the world) and the demons do not pose a threat as long as a gate does not fall.
[9:09 PM]Dan the GMshoe: Are there dragons, and if so, what are they like?
[9:12 PM]Narkov: Yeah there are some dragons in the core beastiary. The dragons are quite traditional large elemental breathing dragons. In The Cradle dragons are known within folklore however no one alive has been able to tell a story of meeting one.
[9:12 PM]Dan the GMshoe: Speaking of the bestiary, how large is it?
[9:14 PM]Narkov: Roughly 140 creatures in the main Beastiary and more added through The Cradle and other worlds in the making.
[9:15 PM]Dan the GMshoe: Very respectable.
[9:15 PM]Dan the GMshoe: Let's have a look at the system. Do you have a character sheet that we can see?
[9:18 PM]Narkov: We are currently rewriting our character sheet to be more intuitive. While we are doing these revisions the final character sheet is unavailable. I do have our last one which is good. However note that we made this one before we choose a game name.
[9:18 PM]Narkov: file:///C:/Users/Narko/Downloads/Project_World_Forge_User_File._V1.0.5%20(1).pdf
[9:19 PM]Narkov:
Project_World_Forge_User_File._V1.0.5_1.pdf115.01 KB
[9:19 PM]Dan the GMshoe: Hmm. I can't access that link. Is part of it missing?
[9:19 PM]Dan the GMshoe: Ah, there we go.
[9:19 PM]Narkov: Lmao i didnt share it properly
[9:19 PM]Narkov: It should work now
[9:20 PM]Dan the GMshoe: Yup!
[9:20 PM]Dan the GMshoe: So the first thing that sticks out to me is the lack of any mental attributes. Can you say a bit regarding your thinking in leaving them off?
[9:24 PM]Narkov: Yes well our main 3 stats are Strength Agility Luck. Strength determines the weight class you can wield. Agility is used for magic and is a requisite for a lot of skills. Luck has an effect on loot and has its own line of skills as well. Most things required for roleplaying purposes has been allocated into our base skills. So instead of Charisma for example you would use your Influence, sense motive, or bluff.
[9:25 PM]Dan the GMshoe: So is there any relationship between the stats and the skills, or are they fully independent?
[9:26 PM]Narkov: Plenty of base skills have a stat requirement to go beyond 4. Otherwise they are completely independant.
[9:27 PM]Dan the GMshoe: How does task resolution work? What's the dice rolling mechanic?
[9:30 PM]Narkov: If for example you were trying to see if someone was lying and you rolled against your Sense Motive skill, you would roll a D12 and you would need to get equal to or lower than your Sense Motive score.
[9:31 PM]Dan the GMshoe: What is the scale of skills?
[9:33 PM]Narkov: Base skills go to 9 unless increased further through magical means. So there should almost always be at least a 25% chance to fail a check even at max. Without pushing it further through magical means. Which can be difficult to achieve
[9:34 PM]Dan the GMshoe: A 25% chance of failure for a master of the skill seems a bit high. What was your reasoning there?
[9:38 PM]Narkov: Well in most situations there would be modifiers. Depending on what is going on. If your locked tight chained to a wall you might not get any bonuses on an escape Artistry check. However, if you were tied up flimsy with rope you might get a -5 on the check making it significantly easier to escape. The 25% is intended to be used as leeway in making more accurate checks that depend on situation rather than purely stats.
[9:38 PM]Dan the GMshoe: Ah, I see.
[9:38 PM]Dan the GMshoe: How does combat work?
[9:45 PM]Narkov: So if your party encounters a group of enemies, first you would compare your parties average luck against the enemies average alertness. This would determine which party would move first. Within your party the move order is determined by agility. The highest agility moving first. Unless the party decided to change that order for the sake of strategy. On your turn you have 2 multipurpose actions that can be used to move, perform a basic attack, or activate a skill. You have one free action that can be used to do various things including dropping prone, dropping your weapon, or drawing a weapon.
[9:48 PM]Narkov: For example if someone chose to make a basic attack it would look like this. If the target is within range of the equipped weapon the player can roll a D100(or 2 D10s) to attempt to hit. 1 is critical miss and the weapon takes damage, 2-35 is a miss and no damage is done, 36-74 is a glancing blow and does half damage, 75-99 is a hit and does normal damage, and rolling a 100 does a critical hit dealing double damage. This critical range can be increased through enchantments on the weapon and other magical means. If you hit the target you then roll for damage based on your weapons weight class and the enchantments that weapon has.
[9:48 PM]Narkov: Most damaging skills either automatically hit their target or ask you to make a series of basic attacks.
[9:49 PM]Narkov: Upon taking damage your armor or shield would take damage before your health does. Once your health reaches 0 you would be considered dead or downed depending on the setting you are playing within.
[9:50 PM]Dan the GMshoe: So there are no combat skills? Hits are always a flat random chance?
[9:51 PM]Narkov: No we have hundreds of combat skills available.
[9:52 PM]Narkov: Each weapon type has plenty of combat skills available. These skills are the cornerstone of our combat system. Most of the time you would choose to use a skill over a basic attack. However almost all skills have cooldowns and if they are not yet refreshed, basic attacks may be your best option for damage.
[9:53 PM]Dan the GMshoe: So a normal attack would be on a d12?
[9:54 PM]Narkov: A basic attack is a D100 to hit and dependent on weight class for damage.
[9:54 PM]Dan the GMshoe: So what does a skill-based attack look like?
[9:54 PM]Narkov: The D12 is used for checks against base skills.
[9:55 PM]Narkov: Ill give you an example of a weapon skill here.
[9:56 PM]Narkov: Fancy Footwork An Agility score of 10 is required to learn this skill. At close range, you automatically hit with a glancing blow. You can then move behind your target. After using this feature, you must wait 2 rounds for this weapon skill to cool down before you can use it again.
[9:56 PM]Narkov: This is a low level Dagger skill for example.
[9:57 PM]Narkov: You would spend one of your actions to activate the skill and the skill would do damage without any required rolls. It would then go on cooldown and not be usable for 2 rounds.
[9:58 PM]Dan the GMshoe: Were you inspired by computer RPG design?
[9:59 PM]Narkov: Yes absolutely. We wanted there to be a lot of ability to power up and gets stronger. We want the player to feel like they are working towards a better skill almost always.
[9:59 PM]Narkov: In favor of this we also included a really cool Random Loot system.
[10:01 PM]Narkov: In which if you find a loot chest you would roll a d20 to get a random drop. This drop chart is either customized per campaign depending on what the setting is or you can use the one we have created in the book. The loot will have a rarity either decided by the campaign or the programmer(DM). The rarity would determine what and how many enchantments the weapon would drop with.
[10:03 PM]Dan the GMshoe: What worldbuilding tools does your game feature?
[10:07 PM]Narkov: We have our mechanics built so that many things can be edited. Much like the random loot chart that can be changed to make a certain weapon type more likely or can be used to remove/add weapon types to the game. We are currently working on a World building kit. This will have a checklist of all removable mechanics within the game that allows you to easily sort through and communicate to your party which mechanics are included in a campaign. Also included in this kit will be various world types and settings that players can either use to mix and mash a world together or set out to create something original.
[10:08 PM]Dan the GMshoe: Are there any genres outside of the scope of the rules? Superheroes, maybe?
[10:09 PM]Narkov: Your thinking right up our alley now!
[10:11 PM]Narkov: Absolutely we have had so many ideas of different ideas of genres that can be utilized within our game. Superheroes are one we have started to explore actually. Currently there are no rules being published that would add superheroes to the game. However it would not be difficult to homebrew a mechanic that replaces magic. It is likely that we will see an official superhero release from Triskel-Fox Studios in the future.
[10:11 PM]Dan the GMshoe: Good to know!
[10:12 PM]Dan the GMshoe: In the time remaining, is there anything we haven't covered that you'd like to bring up?
[10:15 PM]Narkov: Well I feel like we have covered the basics. I think it is worth mentioning that we are currently working on the second world of World Canvas. The Dark City. This is an underworld setting with modern tech. This adds cars and driving and modern firearms. There are clans of Werewolves and Vampires fighting for territory. The Dark City adds a lot of modern tech to the arsenal of World Canvas as well as a brooding world for you to explore.
[10:17 PM]Dan the GMshoe: Very nice!
[10:17 PM]Dan the GMshoe: Thanks very much for joining us, @Narkov!
[10:17 PM]Dan the GMshoe: Usual reminder: If you've enjoyed this Q&A and would like to treat me to a coffee or two, you can do so at https://www.ko-fi.com/gmshoe. Anything's appreciated!
Ko-fiBuy Dan Davenport a Coffee. ko-fi.com/gmshoeBecome a supporter of Dan Davenport today! ❤️ Ko-fi lets you support the creators you love with no fees on donations.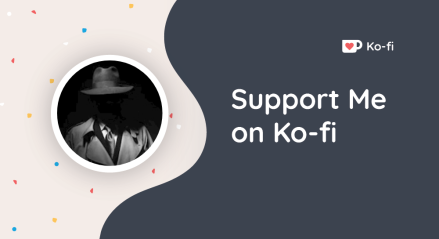 [10:17 PM]Narkov: Thank you very much for having me!
[10:18 PM]Dan the GMshoe: If you'll give me a minute, I'll get the log posted and link you!