[7:40 PM]Rogvu: Hello all, my name is Leo. I live out in Oregon and am an avid tabletop role-player, and hobbyist writer. I've been working on an old west themed D20 game for the past couple years, and believe it is finely time to share it with the world. My partner was going to be here tonight as well, but he is sick. He helped with ideas, editing and testing of the game. Western Tails is a roleplaying game set in a furry version of the wild west, mostly within Oregon around the timeframe (1855-1895). This game is not necessarily intended to be an accurate history lesson, it is designed primarily as an old western game utilizing the d20 system. historical accuracy is not even the secondary goal, which is really to create a game that gives you the feel and trappings of the Old West without having to get too bogged down in a history lesson. The ways in which the world of Western Tails differs from the true eighteenth and nineteenth century in the human world are caused by a couple of factors. The world in Western Tails is inhabited by intelligent anthropomorphized animals known as Furries who possess human characteristics such as opposing thumbs, erect posture, use of tools, and so forth. The variety of Furry types, causing a civilization in which (though to a lesser extent than was true in previous centuries) species determines one's place in society. Magic also works, to an extent
[7:42 PM]Dan the GMshoe: Thanks, @Rogvu! The floor is open to questions!
[7:42 PM]Dan the GMshoe: How did you come up with this idea? What inspired you?
[7:46 PM]Rogvu: I've always loved games like DnD, Pathfinder, Rifts, Shard and Traveler. One night I during a game we was talking about wouldn't it fun to do a game with pirates, or air pirates. I forget what one it was at the time, but I had just gotten done watching an ep of West World, and was like… no what if it was Gunslingers. Then someone commented about Billy the kid making them think of a young goat, so then I was like well… why not.
[7:47 PM]Dan the GMshoe: Very nice.
[7:49 PM]Rogvu: I live in oregon, which has the largest amount of abandon towns and its history with the oregon trail gave me a lot of inspiration. One of the reasons it was taking so long to write as I wanted some of that history to be there, but it changes at one point due to a meteor and a virus.
[7:50 PM]Dan the GMshoe: Whoa. Can you say more about those last two things?
[7:53 PM]Rogvu: I guess you could say WT takes place on what could be a parallel Earth, where a meteor struck Nevada in 1843 and released a type of mutagenic virus onto the world. This protean virus seemed to affect mostly the primates, and lower lifeform bugs in the area. Mainly spreading through humans, the virus was not noticed as its effects where miniscule at first, just starting as sweats, fever, and tiredness before the infected would slip into a coma like state. Once unconscious the virus continued its work of converting cells and rewriting its host DNA to closer match that of another within the area that was better adapted for the environment. This process was slow, taking months to fully convert its host. The virus kept the body alive in a hibernated state during the conversion process, once the conversion was completed the virus went dormant.
[7:53 PM]Rogvu: People would wake from this Great Sleep in a location that was familiar to them but also, strange. Their world seeming off somehow, as if they had just woken from a dream. Their minds still remembering how to do basic things, like walk and speak but not remembering how they got to where they were, or who they really are. Over time they remembered more, like where they lived or how to do their jobs but still unable to recall what they were doing before, or why some of their clothing did not fit any more. Scholars have tried to learn more about the time before, studying the books, images, and items about the lands in hope of learning what had happened, and who the strange ape like creatures in many of the images are as well what happened to them. Most of their research not concluding if the Ancient Ones are even real, or just stories. Over time many have forgotten about a time before and moved on, adapting to these new lands, converting the ancient one's devices to fit their own needs or creating new. while some still try to find answers to questions that might never be able to be figured out.
[7:55 PM]Rogvu: The real location I visited, and drew on for that plot point. yep, one really hit there many years ago.
[7:55 PM]Dan the GMshoe: Huh. So the Furries are all mutated humans?
[7:56 PM]Rogvu: Indeed, yet to them it is the normal world. like it has always been.
[7:56 PM]Dan the GMshoe: Hmm… Interesting.
[7:57 PM]Dan the GMshoe: How much of a "pause" in history happened as a result of the virus and its effects?
[7:57 PM]Rogvu: There is a story in the book, that is written from the perspective of a diary entry for a lady that goes through the event.
[7:58 PM]Rogvu: history kind of stops at 1843, then diverts a bit because of the change. I keep some events, but others have altered slightly.
[7:59 PM]Dan the GMshoe: So is it the "real" Wild West era, or sometime much later chronologically?
[8:03 PM]Rogvu: The time frame is still about 1845ish, though the people within the world at not quite sure where to pinpoint their date. They just go by what they find, like the last news paper, journal entries, dates on papers. The Western Tails RPG is set in the years fallowing the change, with most of the settings in the book being among the West Coast and primarily in Oregon. However; the setting can be any time and any location as traveling can happen. By the year 1850 many of the settlements that where damaged in the calamity that changed the world are built back up, and adapted for many of the new forms the people have. Though, settlers moving west still have to deal with the vast barren plains, tumultuous rivers, dangerous dust storms and deadly bandits. An influx off of those coming north looking for gold has also brought many new furs to the area, which is making many of the natives uneasy as settlements expand, while hunting and scared lands are claimed. Much stuff transfers from old perspective of thoughts as well. The variety of Furry types, causing a civilization in which (though to a lesser extent than was true in previous centuries) species determines one's place in society. Magic also works, to an extent.
[8:03 PM]Rogvu: In other ways, the time of Western Tails is still quite like our own, the Golden Age of Piracy was just starting to end and more English colonial settlements where on the rise in the American colonization. Gender and as mentioned above species will be a factor to some things, discrimination was not uncommon in this time, however any character can be a gunslinger or prostate if they like. Women often dressed as men to get ahead, and gain advantages denied to them during this time because of their gender. This act would go both ways, men engaged in cross dressing to be more welcoming while working brothels and laying with other men.
[8:04 PM]Rogvu: There may be individual situations for example, where the fact that there is a woman Gunslinger in the group becomes an issue, but this is simply to make for an interesting scenario (or for a particularly misogynistic bad guy) and not as the focus of the game.
[8:05 PM]Dan the GMshoe: You mentioned species having an impact on social status. Can you say some more about that?
[8:09 PM]Rogvu: Most see felines as more noble, so they tend to get into positions of higher power easier. Mayor, Judge. Where a rat, well they are looked more down upon and tend to not have it as easier. getting lower jobs, like simple deck hand or dockworker.
[8:11 PM]Rogvu: funny thing on that… during a test game they was fighting a rat bandit, and asked what they find for loot on him. I said keys, bullets and block of cheese. which then got someone to yell speciest at me for the cheese comment.
[8:11 PM]Dan the GMshoe: Ha!
[8:12 PM]Dan the GMshoe: What species are available to play?
[8:17 PM]Rogvu: That is one of the nice things about WT, there is many different species you could play and each one comes with their own spices traits and abilities. Almost any local spices in the western states is playable as is non-local. The non-local just tends to start with an Outsider trait and is a little limited on Occupation.
[8:18 PM]Dan the GMshoe: Are there any differences between species common to the settlers and the natives?
[8:23 PM]Rogvu: Good question, I was pondering doing that at first but then I figured that would limit players on their backgrounds and occupation. So, I left it as any species can have any nationality. They just get a few different bonuses depending on their nationality. Native, they get more boost to their local knowledge and skills with herbs and wildlife as colonials get a boost to their crafting and survival skills
[8:24 PM]Rogvu: So, you could see a coyote gambler or native hunter. just each has different traits to use due to their nationality.
[8:25 PM]Rogvu: Here is a look at the charsheet to see all the options you get
[8:30 PM]Dan the GMshoe: Let's see here…
[8:32 PM]Dan the GMshoe: Nice character sheet!
[8:34 PM]Rogvu: Thank you, for a better look you find it here https://www.westerntails.net/character-sheet Discord kept limiting my size to share so I had to just screen capture it.Western Tails – Character SheetCharacter Sheets
[8:34 PM]Dan the GMshoe: Did you tweak any D20 rules, or introduce any new ones? And which edition of D&D is this based on?
[8:39 PM]Rogvu: We did tweak a few things, some just cosmetic like AC is AP, Class is Occupation. Others have been fully changed, magic is not limited to spells per day. it goes off of mana, with each spell having an amount it has to cast. If you have that much mana, you can cast that spell as many times you want till you're dry…and if you want to cast past your mana, then you're going to take a hit to your HP. HP is another thing that was tweaked, you have your HP but you also have Wounds. You take wounds in combat, once the amount of wounds you take matches your HP then you're knocked out, and once it doubles your HP then you're dead.
[8:40 PM]Rogvu: WT was mostly based on 3.5 rules, as that was what I learned to play on.
[8:40 PM]Rogvu: We also added in a drinking and intoxication system…
[8:41 PM]Rogvu: As we tend to have players that love to just around to bars, and party in game. well, now depending how many drinks you down you're going to get some effects off it.
[8:42 PM]Rogvu: There is also a Crimes and Bounty system within the game, do something pretty bad and you might have to pay or get hunted down. Keeps them on their toes.
[8:43 PM]Dan the GMshoe: What forms does magic take in this setting?
[8:49 PM]Rogvu: There is a mixture of ritual magic, and combat magic. Can someone still fling fireball, no not really but they might be able to control a fire. WT has two categories: Mysticism (cast by Priest and Shamans) and Natural (cast by Musicians and Witches). Cutting across these categories are the Six schools of magic: Abjuration, Alteration, Conjuration, Divination, Illusion and Restoration. These schools represent the different ways that spells take effect. Withing these schools are four Traditions: Divine, Harmonics, Shamanism, and Wiccan.
[8:51 PM]Dan the GMshoe: Nice.
[8:51 PM]Dan the GMshoe: What sorts of things can magic accomplish on the high end of the power scale?
[8:55 PM]Rogvu: A priest could return a fallen character to life with the right prayer, while a shaman could call down a missive storm with enough focus. A witch could kill someone with a curse, or a musician could pacify a group with a song.
[8:56 PM]Dan the GMshoe: Are there any supernatural elements to the setting aside from magic?
[9:02 PM]Rogvu: Oh yeah, that is a whole chapter. You got ghost, gods, demons, elementals, and undead. I've tried to base many of them on history, and culture in the area. So there is a mix of native american gods, mixican and christan. While things like a werewolf i based on my own plot with the virus, giving it kind of a scientific way to be there. a common wolf got infected, the virus bonded to its dna and it passed the variant virus on to someone it had bitten and this new virus mutated them. Vampire is kind of the same, only it was a mix of a bat with rabies and the virus. You can even find a Windago, and bigfoot maybe stalking about.
[9:04 PM]Dan the GMshoe: Cool. How large is the game's bestiary?
[9:09 PM]Rogvu: Right now it is about 20 pages, but I hope to expand more on it later with its own book. Right now it has some basic animals, and a couple dire versions of them.
[9:15 PM]Dan the GMshoe: What is a red worm?
[9:20 PM]Rogvu: The red worm is a monstrous subterranean creature akin to an enormous and bizarre earthworm, with reddish skin or plates along its back and a mouth full of teeth. It has been known to cause sink holes, that it then lays in wait within for pray to fall into. (edited)
[9:21 PM]Dan the GMshoe: Does this game attempt to simulate any particular style of Western?
[9:24 PM]Rogvu: Ever see the old John Wayne movies, think of that mixed with a million ways to die in the west. That seems to be how the people are taking the test campaign I am currently running.
1
[9:24 PM]Dan the GMshoe: So kind of an idealized Wild West?
[9:24 PM]BryanMc: ears perk up John Wayne
[9:25 PM]Rogvu: Yeah, idealized old west.
[9:25 PM]BryanMc: Howdy folks
[9:25 PM]Dan the GMshoe: Howdy, @BryanMc!
1
[9:25 PM]Rogvu: Howdy Bryan.
1
[9:26 PM]Dan the GMshoe: @Rogvu In the time remaining, is there anything we haven't covered that you'd like to bring up?
[9:26 PM]BryanMc: Glad I caught this – GunnyBunnies, I'm in
1
[9:27 PM]Rogvu: We do have a player that basically made Doctor Quinn as a rabbit
1
[9:27 PM]BryanMc: Spaghetti Westerns – Loius L'Amour
@RogvuWe do have a player that basically made Doctor Quinn as a rabbit[9:27 PM]BryanMc: Fabulous
[9:27 PM]Dan the GMshoe: Doctor Quinn, Medicine Rodent
1
[9:28 PM]BryanMc: My dad loved westerns and I grew up on country music. Not my thing but super nostalgic.
[9:28 PM]BryanMc: this looks like fun @Rogvu – I think I saw it this week on fb
@Dan the GMshoe@Rogvu In the time remaining, is there anything we haven't covered that you'd like to bring up?[9:29 PM]Rogvu: Feel free to checkout what we got up on http://www.westerntails.net and I am offering a pdf copy of the book here https://drive.google.com/file/d/1ECqIty1U_sGW0YiV0hhidRt3WOPgIJqT/view?usp=sharing for any one on this server to try out.
1
[9:29 PM]BryanMc: also BTTF3
@BryanMcthis looks like fun @Rogvu – I think I saw it this week on fb[9:30 PM]Rogvu: Thank you, I am kind of the same. grew up on country music, and the movie maverick
1
[9:30 PM]Dan the GMshoe: That's very kind of you, @Rogvu! Please feel free to post that in promotion as well if you like.
[9:31 PM]Rogvu: Thank you for hosting tonight, it was a fun chat.
1
[9:32 PM]Dan the GMshoe: You're very welcome! I hope you'll continue to hang out with us whenever the mood strikes. We're always open!
[9:32 PM]Dan the GMshoe: Usual reminder: If you've enjoyed this Q&A and would like to treat me to a coffee or two, you can do so at https://www.ko-fi.com/gmshoe. Anything's appreciated!
Ko-fiBuy Dan Davenport a Coffee. ko-fi.com/gmshoeBecome a supporter of Dan Davenport today! ❤️ Ko-fi lets you support the creators you love with no fees on donations.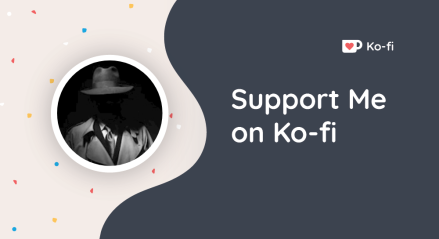 [9:32 PM]Dan the GMshoe: If you'll give me a minute here, I'll get the log posted and link you!