[7:33 PM] Andrew Hindenburg: I'm Andrew Hindenburg, I've been a game master for about 25 years and recently I made the jump to the other side of the aisle to write and create the games I love so much. World of Game Design has given me the opportunity to design great stuff for them and trusted me to put together a Mothership conversion of our Scrap Rats line which was originally based in 5e DnD. In addition to the great stuff that was written in the original tome I have been gifted the chance to introduce brand new things into the mix like new adventures, rules, and even species!
[7:34 PM] Andrew Hindenburg
: done
[7:34 PM] Dan the GMshoe: Thanks, @Andrew Hindenburg! The floor is open to questions!
[7:34 PM] Dan the GMshoe: What is the premise of Scrap Rats?
[7:37 PM] Andrew Hindenburg
: Scrap Rats is a sci-fi game of junkyard rats, salvage, high stakes, and the very high probability that your character is going to bite the dust eventually. We designed Scrap Rats to be a game first and foremost about getting cool stuff and making your way in the galaxy one credit at a time. There are horrible things out there in space, however, and they do NOT want to give up their ill gotten goods easily! In the game you play the titular Scrap Rats and we felt that the premise was perfect for a deadly rule set like Mothership.
[7:38 PM] Andrew Hindenburg
: Done
[7:38 PM] Dan the GMshoe: (No need for the (done) after the intro, sorry.
)
[7:39 PM] Dan the GMshoe: Can you give us an idea of the tech level of the setting?
[7:44 PM] Andrew Hindenburg
: The tech level in Scrap Rats varies. Your characters, the Scrap Rats, generally have what I like to call "Wal-Mart level tech." meaning that the ships, weapons, armor, and other equipment provided by the big corporations that send you out to salvage junked ships and abandoned manufactories is functional, efficient, and just barely good enough for them to say, "It works." The Scrap Rats have access to things like laser weapons and heavy armor and ship to ship weaponry but as with everything cheap and barely functional, there can be problems. The technology level that you encounter out in the harsh galaxy can vary, however, from low tech worlds that worship old technology to star spanning civilizations that have teleportation technology, energy weapons, and massive capital ships that can level entire cities and raze whole worlds.
[7:45 PM] Dan the GMshoe: Is there any well-known sci-fi property to which you'd compare it, tech-wise?
[7:46 PM] Andrew Hindenburg
: Hmmm… that's a tough question. I would say Star Wars with a bit of ALIEN thrown in there for good measure.
[7:48 PM] Dan the GMshoe: How is FTL travel handled?
[7:51 PM] Andrew Hindenburg
: It depends. Some of the more technologically advanced species have access to personal FTL drives which allow the largest and most advanced ships to travel past the speed of light on their own. Most of the normal, run of the mill citizens of the galaxy have to make due with gates, large structures built in space that fling ships at incredible speeds from one point in the galaxy to another. These gates, of course, are not free to use and are just one more thing on the list of expenses a Scrap Rat has to contend with in every day life… at least until they buy (or maybe steal) a ship of their own that's capable of traveling faster than light.
[7:55 PM] Dan the GMshoe: How would you describe starship combat? Is it cinematic dogfighting in space, for example, or is it more realistic?
[8:02 PM] Andrew Hindenburg
: Generally speaking the characters in Scrap Rats are going to want to avoid getting into a ship to ship duel in space. If that DOES occur the rules for such a situation are fast, brutal, and deadly. Duking it out in space with giant weapons is always a troubling proposition and the enormous amounts of energy combined with the inherent dangers of space travel make it so that even the most powerful of ships will always try talking before engaging another vessel. To answer your question, I would most likely call it, "old timey naval battles in space." Vast distances, lumbering vessels, and enormous expenditures of time with slow projectiles being hurled across the gulf of space hoping to damage the enemy combatant. (edited)
[8:02 PM] Dan the GMshoe: Are there intelligent alien species in this setting?
[8:05 PM] Andrew Hindenburg
: Most definitely! As a matter of fact one of the scenarios new to the Mothership version of Scrap Rats introduces an entire new culture and civilization as an antagonist for a series of adventures and source articles which we will expand greatly on in upcoming releases.
1
[8:05 PM] Kaiju_Poet
: Are the alien species playable?
[8:06 PM] Andrew Hindenburg
: Yep! We have an actual Scrap Rat race we created as a stretch goal for our current Kickstarter as well as a couple of others in the core book.
[8:06 PM] Dan the GMshoe: How exotic are the aliens?
[8:09 PM] Andrew Hindenburg
: Oh we have all sorts of neat and scary stuff like weird, mutated bug aliens, undead parasitic jelly like organisms that infect humanoid hosts, and of course the aforementioned Scrap Rat which is a template that can be applied to any Mothership class for a unique play experience.
[8:10 PM] Dan the GMshoe: How common are life-supporting planets?
[8:13 PM] Andrew Hindenburg
: As common as the GM running the game wants them to be! The great thing about Scrap Rats is that while it does have a neat base setting, that setting is very general and allows a ton of leeway for any GM or Warden to really go nuts and create their own look and feel. We imagined habitable planets being relatively rare and livable space stations much more common as a means for humanity to spread across the stars, clustered pretty heavily around various jump gates and points for ease.
[8:18 PM] Dan the GMshoe: What are relations like between the starfaring species?
[8:29 PM] Andrew Hindenburg
: In general we imagined relations between most species in the galaxy to be strained at best and outright hostile at worst. With that said, it's important to understand that while there are a few alien races that are begrudgingly accepted by humanity the vast majority of them have tried to kill, destroy, or otherwise stop humanity from expanding rapidly across the galaxy. Luckily, given the vast distances that separate one civilization from another, those interactions are relatively rare. However, one of the new adventures unlocked thanks to our wonderful backers is the beginning of what could be a vast interstellar war between humanity and the previously talked about undead jelly parasite aliens. We will expand on those aliens and the conflict between humanity and the Ophian empire in future supplements.
[8:30 PM] Dan the GMshoe: Do the PCs have access to any exotic powers, like psionics, mutations, cybernetics, and the like?
[8:32 PM] Andrew Hindenburg
: Most definitely. While we do not have any powers, psionics, or mutations as base level gifts we have included many artifacts and items that grant abilities similar to those. Cybernetics are 100 percent a big part of Scrap Rats, every good scrapper loses a finger or a hand or a leg in the course of their career!
[8:34 PM] Dan the GMshoe: Are there any drawbacks to cybernetics?
[8:39 PM] Silverlion: Is this for Mothership?
[8:40 PM] Andrew Hindenburg
: Oh, of course! Many of the cybernetic replacements are designed as alien artifacts, mysterious items of great xeno power that can be used in place of a limb or organ. We have also added drawbacks to many of these artifacts, designed to make the players question whether or not that cool alien eyeball is worth the penalties involved. Normal cybernetics, ones created by humanity or assigned by the companies Scrap Rats work for, do not necessarily grant any bonuses or have any drawbacks beyond what would normally be associated with having a mechanical replacement for a biological organ. Rust and malfunctions are all part of the story-based drawbacks for any mechanical limb, of course, and Wardens are free to scheme up other ways a cybernetic replacement might impede a Scrap Rat's career.
[8:41 PM] Andrew Hindenburg
: We have two versions! Scrap Rats was originally released as a classless system for DnD 5e and our currently running Kickstarter is for the Mothership 1e version.
[8:42 PM] Silverlion: Do you need Mothership 1E to play or will it be self-contained?
[8:42 PM] Andrew Hindenburg
: The Mothership 1e rules will be necessary to play.
[8:43 PM] Silverlion: Alright.
[8:45 PM] Dan the GMshoe: Do you have a character sheet that we can see?
[8:49 PM] Andrew Hindenburg
: Currently we use the Mothership 1E character sheet for convention play and play testing but we have one of our artists working on a unique sheet designed JUST for Scrap Rats Mothership. It's not QUITE ready to show to the public yet but rest assured we are very excited about the look and feel and how it's thematically appropriate for our game.
[8:50 PM] Dan the GMshoe: Can you describe the elements that make up a character?
[8:57 PM] Andrew Hindenburg
: As with many other roleplaying games you have statistics, saves, and skills along with a class choice and equipment. What really makes Scrap Rats unique is how we make ship creation a part of the start of your adventure. We have included rollable tables that have a variety of names, colors, and unique modules that make your ship very special. For example you could have a ship named The Ardent Vagrant that is rusted cherry red and has four extra sets of landing gear and and AI crypt deep within the ship that contains an ancient (and possibly malevolent) entity within. Another thing that really helps bring characters to life in Scrap Rats is the inclusion of a relationship table, a d10 rollable table that allows you to prefabricate connections between party members – something that in my experience creates tight and lasting bonds between characters (and players) from the very start.
[8:58 PM] Dan the GMshoe: Can you describe the task resolution mechanic?
[9:03 PM] Andrew Hindenburg
: It's a percentile system so you roll a set of d10s, one is the tens place and the other the ones place, and you are attempting to roll under a number that is determined by taking your base save or statistic score and adding a bonus based on how advanced the skill is you are attempting to use. For example if you're attempting to fly a ship you might roll Speed at a base of 30 with piloting – an expert skill – which grants a bonus of +15, for a total target number of 45. If you roll under you succeed, if you meet or roll above you fail. Doubles are always a critical, be it a critical success or failure, and since the range of numbers is 0-99 a critical success is always rolled on 0 and a critical failure on 99.
[9:04 PM] Dan the GMshoe: What are the statistics?
[9:05 PM] Andrew Hindenburg
: Strength, Speed, Intellect, and Combat. The saves are Sanity, Fear, and Body.
[9:06 PM] Dan the GMshoe: How does combat work?
[9:09 PM] Andrew Hindenburg
: Combat in Mothership 1E is pretty simple, it's just like a task resolution but the warden tells the players the situation and they decide on a course of action. The Warden then assigns a roll to make based on those actions and the player tries to succeed just like any other roll, by getting a number lower than the assigned stat + skill. Failure generally means something bad happens, I.E. the monster attacks you and does damage.
[9:09 PM] Dan the GMshoe: How is damage determined?
[9:13 PM] Andrew Hindenburg
: Each weapon has it's own stats and deals an amount of damage equal to a number of d10s. Some weapons deal a flat wound of damage, meaning they reduce one "pool" of the monster (or player's) health points to zero. These pools of health are identical in both players and monsters and have a set number of points per wound based on a roll during character creation. When one of these pools is reduced to zero the monster or character rolls on a wound table found in the Player's Survival Guide and takes a horrific injury based on the type of weapon used up to and including death.
[9:14 PM] Dan the GMshoe: How does armor work in the system?
[9:16 PM] Andrew Hindenburg
: Each suit of armor has a value that is subtracted from the amount of damage taken from an attack. If the damage is greater than the value of your equipped armor, the armor is destroyed after reducing the incoming damage.
[9:16 PM] Dan the GMshoe: Is there powered armor?
[9:18 PM] Andrew Hindenburg
: Not in the base Mothership rules but I'm cooking up some extra special power armor for the upcoming Scrap Rats Scrapper's Arsenal I'm currently working on. (edited)
1
[9:19 PM] Dan the GMshoe: So you intend for this to be a game line?
[9:21 PM] Andrew Hindenburg
: Oh yes! We have a number of new supplements and adventures in the works that will expand the Scrap Rats universe. I personally LOVE Scrap Rats and I'm looking forward to showing everyone the really, really cool stuff that's coming down the line, some of which I've teased a bit already.
[9:23 PM] Dan the GMshoe: No game is for everyone, and no game is flawless. That being the case, what is your least favorite aspect of Scrap Rats? (Not most hated — just least favorite.)
[9:32 PM] Andrew Hindenburg
: Oh man, hitting me with a tough question! I think that having a game as deadly as Scrap Rats can be both a good thing and a bad thing, a double edged sword if you will. I love tough adventures and the possibility of death but it's also very difficult when a character that is truly beloved fails a check or gets an unlucky roll and bites the dust. So I think my answer to your question is the possibility of an ignoble and unceremoniously terrible character death due to bad rolls or bad decisions. In the end, however, the game is about risking your Scrap Rat's mental, physical, and emotional health for a chance at striking it big and there's always going to be the risk of an ignominious death when you're tooling about the galaxy.
[9:33 PM] Dan the GMshoe: A very solid answer.
[9:34 PM] Andrew Hindenburg
: Thank you!
1
[9:34 PM] Dan the GMshoe: In the time remaining, is there anything we haven't covered that you'd like to bring up?
[9:36 PM] Andrew Hindenburg
: I think what we've got here pretty much covers everything I wanted to talk about. Anything else you're curious about?
[9:37 PM] Dan the GMshoe: Does the game have a bestiary of alien critters, and if so, how large?
[9:39 PM] Andrew Hindenburg
: Very much so. We currently have about a dozen new monsters in the core Scrap Rats Mothership book and I'm working on a much larger bestiary to cover our upcoming releases called the Ophian Ossuary that will have a TON of new critters that will challenge and torment any player character.
[9:40 PM] Dan the GMshoe: Very nice!
[9:40 PM] Dan the GMshoe: I'd be interested in reviewing the game when it comes out.
[9:41 PM] Andrew Hindenburg
: That would be great!
1
[9:42 PM] Dan the GMshoe: I hope you've enjoyed your visit with us, and that you'll continue hanging out with us when the mood strikes. You're always welcome.
[9:43 PM] Andrew Hindenburg
: Thanks for the interview, I really enjoyed spending some time talking about this property I get so much enjoyment out of working on.
[9:43 PM] Andrew Hindenburg
: Would it be possible for me to link the Kickstarter?
[9:43 PM] Dan the GMshoe: I would encourage you to do so! The image at the beginning of the chat log will also be a link.
[9:44 PM] Andrew Hindenburg
: Awesome.
https://www.kickstarter.com/projects/bitesizedgaming/scrap-rats-mothership-1eKickstarterBiteSizedGamingScrap Rats: Mothership 1eA crew just trying to get by in a rough galaxy. Scrap your way to a paltry retirement or an early grave.
[9:45 PM] Dan the GMshoe: Wow! Congrats on the wildly successful Kickstarter!
[9:45 PM] Andrew Hindenburg
: Thank you! We are so excited that people love Scrap Rats this much.
[9:45 PM] Dan the GMshoe: Thanks very much for joining us this evening!
[9:45 PM] Andrew Hindenburg
: Thank you!
[9:45 PM] Dan the GMshoe: Usual reminder: If you've enjoyed this Q&A and would like to treat me to a coffee or two, you can do so at https://www.ko-fi.com/gmshoe. Anything's appreciated!
Ko-fiBuy Dan Davenport a Coffee. ko-fi.com/gmshoeBecome a supporter of Dan Davenport today! ❤️ Ko-fi lets you support the creators you love with no fees on donations.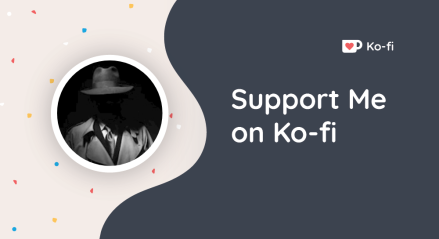 [9:46 PM] Dan the GMshoe: Now, if you'll give me a minute here, I'll get the log posted and link you!