[7:35 PM] Vikingverse: I am Ian Stuart Sharpe. I like to imagine I am descended from Guðrum, King of the East Angles, although DNA tests and a deep disdain for camping suggest otherwise. I am the author of two novels set in an alternate Vikingverse, the All Father Paradox and Loki's Wager, as well as an Old Norse phrasebook and a whole heap of Jotunn War Comics. My RPG – When the Wolf Comes – is set in said parallel timeline where the Norse rule seas and stars with restless fleets and Christianity has been put to the Viking sword. It utilizes Robert J. Schwalb's Shadow of the Demon Lord rules under license but is a standalone game. (done)
[7:35 PM] Vikingverse
: Barkeep, bring me more mead. Sveinn, sel mér mjǫð minn en engar refjur.
[7:36 PM] Dan the GMshoe: Thanks, @Vikingverse! The floor is open to questions!
[7:36 PM] Dan the GMshoe: Is this the first RPG that you're written?
[7:37 PM] Vikingverse
: It is. I used to work in videogames, but nothing pen and paper. Technically, my partners Rob Schwalb and Darren Pearce have written about a hundred. (edited)
[7:37 PM] Dan the GMshoe: Are you a long-time gamer?
[7:37 PM] Chantel (SHE/HER): What brought you from Video games to Pen and paper?
[7:41 PM] Vikingverse
: RPG wise? I used to play 2nd edition as a kid, although we quickly moved onto more gritty low fantasy affairs like Warhammer. I used to have a stack of miniatures for 40k too. Prior to the pandemic, we were in Seattle and popped in to see a pal at Wizards. He gave my kids the Essentials Kit, and I've been DMing for them ever since. The pandemic really changed the way we played, and the weekly Roll20 sessions became a lifeline for a bunch of teens who were lost and bewildered otherwise. The novels and comics had already come out at this point, but the whole DMing experience rekindled my love affair with story telling. Sitting around a screen or a table, or typing (very slowly) out a story is great fun either way. Igniting imaginations is very rewarding.
2
[7:44 PM] Vikingverse
: Now in terms of video games, well, I have notched up plenty of hours on games like Civ (2-6) and Europa Universalis. In fact, some of the idea for an alternate universe series came from the "What if" of playing those games. I spent way to long in Total War recreating battles for the purposes of grabbing screenshots. But, I think once you actually interact with people around a table for an RPG, video games lose some of their lustre (British spelling, because I am).
[7:45 PM] Vikingverse
: We recently ran Curse of Strahd for a whole gang of 11-13 year olds. Went completely off book, using some of the Mandy Mod and Dragna Carta ideas. Now that is a campaign to emulate, at least in the community adapted form.
[7:46 PM] Dan the GMshoe: What is the time period for When the Wolf Comes?
[7:49 PM] Vikingverse
: Ah, well, that's a question. Because it's an alternate timeline. Broadly speaking, its a pagan present – but bear in mind the Scandinavians were a flourishing and dynamic culture who embraced technology. Christianity tended to burn people who though too much. So the Vikingverse is somewhat divergent, but more advanced.
[7:51 PM] Vikingverse
: Now history fans might like to read this article, which dredges up the notes of the great Arnold Toynbee, who was an eminent 20th Century historian. The notion that the Norse bucked the trend of Christianity isn't too far fetched. and formed one of the first ever speculative histories. https://norseplay.blogspot.com/2022/07/toynbee-extrapolates-viking-conquest-of.htmlToynbee extrapolates a Viking conquest of Midgard.Toynbee's alternate history essay on what-if the Vikings had conquered the world, and how we could NorsePlay that potential for ourselves in the now.
1
[7:51 PM] Dan the GMshoe: Interesting. How would you characterize the tech level of the setting?
[7:58 PM] Vikingverse
: So what I am really aiming to do is explore how a modern society might have evolved based on those northern beliefs. But it also involves an ancient god tinkering with the timelines – Óðinn, as you know, is doomed to be swallowed by Fenrir at Ragnarök. He spends his entire existence marshalling men in Valhalla for the final reckoning – and that is where the title of the game comes from. He says "They shall seem too few when the wolf comes" (In Gylfaginning, the first part of the 13th century Prose Edda). Under siege by fate, the War Father plays for time: he changes the course of history. But the Norns do not like inconsistencies, and the past has a way of catching up with us. Óðinn has not changed how he met his end, simply when. Sooner or later, all those rust-red birds at the bars of Hel come home to roost. Now – tech-wise, Óðinn accelerates the tech tree by gifting the Norse Chinese gunpowder and Arabic clockwork etc. So by the modern era, there is some advanced robotics and genetic science.
[8:00 PM] Vikingverse
: That said, riding machines such as Benzine Carriages and Steam Locomotives have failed to attract as much attention or success as in our world. This is in large part to the discovery of the Greenways – innovators and inventors had plenty of other problems to incentivize them. The discovery that Yggdrasil was sentient, not to mention the debacle of the dökkálfar, have ended any fledgling attempts to build an internal combustion engine. Coal has become a sacred relic rather than a combustible commodity, and for a time even gathering firewood was frowned upon. The nascent petroleum industry was quickly abandoned – for some, the mere mention of black gold is blasphemy! (edited)
[8:02 PM] Vikingverse
: There is a little bit more on how spells and spaceships fit together in the game on well, the Spells and Spaceships blog here: https://spellsandspaceships.home.blog/2022/07/07/when-the-wolf-comes-a-tabletop-rpg-a-chat-with-ian-sharpe/Spells and SpaceshipsSpells and SpaceshipsWhen the Wolf Comes – A Tabletop RPG! – a chat with Ian SharpeIan Sharpe has been one of my guests on Spells & Spaceships before – you can read our Q&A from Norsevember 2020 here.Sharpe has written extensively about his alternate Vikingverse, a …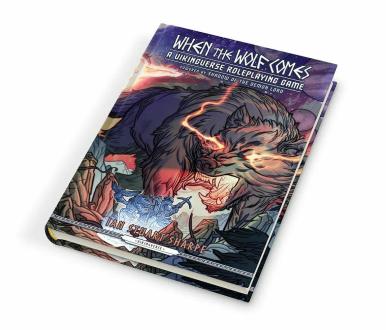 [8:03 PM] Dan the GMshoe: How advanced are spacecraft? Is there FTL travel?
[8:05 PM] Vikingverse
: I'm going to save my typing fingers and give you an excerpt from that interview above:
[8:05 PM] Vikingverse
: I'd suggest there is nothing so cherished among Norsemen as the ancient tradition of shipbuilding. As readers of the novels will know, Skuld shipwrights turned established craftsmanship into holy discipline, solemnly passed down from master to apprentice. Norse orbital ships are named drakkar, just like the dragon ships of old. They look a little like a tree growing in reverse – a living vessel designed to withstand impacts, solar storms, and the extremes of the Ginnungagap. I felt these bio-ships were important to get right, so as to be scientifically plausible and suitably Norse. I didn't want them to come off as Klingon or Imperial. So they have a full design theory: the heartwood is sculpted into bulkheads, decks, and compartments, and then a layer of sapwood is grown to carry air, water, and nutrients. Systems are stored in the stern along with anchoring, cargo, and energy cells. Propulsion comes from the crown, via the exchange of gases, and a solar sail, when extended. That said, the real innovation is Thought/Memory Drive, an integral part of most Vikingverse ships. Forget hyperdrive or warp, or a hopeful mishmash of quantum physics. T/M Drive allows the near instantaneous crossing of the Gap using entangled histories. After all, what is history but thought and memory? Plug in a pilot, and they can walk between realities, skipping between the here-and-now and the been-and-gone. It's the same way the Wise use their consciousness to engage the Worlds Tree, Yggdrasil. I hope it comes across as definitively pagan yet deeply sci-fi.
[8:05 PM] Vikingverse
: Divert all power to shields.
Sláit upp skjǫldu í stafni.
[8:06 PM] Vikingverse
: Now they can all be seen on the Kickstarter page – because there is a FREE COMIC.
[8:06 PM] Vikingverse
: 22 pages of Jötunn War mayhem that sets the stage for all this.
[8:08 PM] Dan the GMshoe: So is this an interstellar setting?
[8:09 PM] Vikingverse
: Yes and no. The Norse Kingdom of the Heavens is a collection of planetary bodies, hurtling through the void. A conventional star map might place them in far flung constellations; a modern astrophysicist might even glimpse them, light years away, as they transit across their distant sun. In the Vikingverse, this kind of celestial reference is – while scientifically correct – ultimately unhelpful. In a very real and much more important sense, each of the nine homeworlds is linked by Yggdrasil, her roots and branches stretched across the stars. Thanks to the Greenways, the worlds are simultaneously incredibly far apart and within touching distance. Just as the Romans bestowed the names of their gods and goddesses on the planets they could see in the night sky, the first Norse explorers of alien realms used their own myth to architect the heavens. The Níu Heimar of legend became a map for strange, new worlds, written into reality with the stroke of a pen.
[8:10 PM] Dan the GMshoe: Are there aliens?
[8:12 PM] Vikingverse
: Not in traditional sense, but there are certainly Others. According to Norse Creationists, the Nine Worlds are held in the branches and roots of the mighty, sprawling world-tree Yggdrasil. Taken literally, that idea is as absurd as the notion of a Flat Earth, but it is an evocative and enduring picture. In fact, star scholars have come to understand that the myth contains an inherent truth. The prevailing wisdom is that Yggdrasil is indeed the canopy of all creation, having seeded life throughout the cosmos. Each step was guided, perhaps even planned, by this supreme arboreal sentience and mankind is little more than a tool, wielded as part of an unfathomable design.
[8:13 PM] Vikingverse
: Now related, the álfar are the scions of Yggdrasil, her bark and bough made flesh and marrow. But be warned, the "elves" of the Vikingverse are not Tolkien's pointy-eared archers or Victorian faerie folk. They are spirits, pattern-welded into weapons – and for all their dazzling brilliance, they harbour hearts as cold as stone.
[8:14 PM] Vikingverse
: It was important to take the Norse notion of "elves" and strip it back to the original form – spirits of ancestors and "death demons". So much of our fantasy stereotypes have strayed from the original conception, I wanted to bring them back to their roots so to speak.
[8:15 PM] Vikingverse
: I mean, short, stumpy dwarves are a product of Christianity also. There is no notion of them being small in the original (admittedly piecemeal) texts.
[8:16 PM] Vikingverse
: So, the creatures of the Vikingverse might be extra terrestrial (extra Midgardian), but that was the whole notion of the Nine Homeworlds anyway.
[8:17 PM] Vikingverse
: The Níu Heimar were separated by spiritual veils, not interstellar ones.
[8:18 PM] Dan the GMshoe: Are there monsters in the Vikingverse? If so, how common are they?
[8:20 PM] Vikingverse
: Life abounds across the Níu Heimar. The Wise initially sought to reinforce mann's dominion over the three kingdoms of nature, but they soon found evidence of life beyond the animal, the vegetable, and the mineral. They collected specimens and trophies from all manner of creatures, both familiar and strange, from the tiniest bug to enormous whales – all of which had taken their own path of natural selection. The resulting Catalogue of Creatures was often a product of fancy – just like in our medieval times. The Wise used folklore and tradition to label creatures. For example, the Bärgeist of northern superstition was a monstrous dog, a herald of death whose howl was an omen of grim tidings. The "Bear-ghost" of Jötunheim is an equally monstrous hypercarnivore, somewhat similar to a polar bear. The same beast might be known by other names in different areas or in other cultures: the Skræling use the term tupilaq for the Bear-ghost for example. Many creatures found across the Níu Heimar would be considered extra-terrestrial by our standards, in that they didn't originate or evolve on Midgard. The concertinaed nature of the hinterworlds means that few of the Wise bother to think in such terms. It became abundantly clear that many species had been touched by the seed of Yggdrasil, the Worlds Tree guiding mutations in ordinary creatures, as well as generating wholly new branches of life. (edited)
[8:22 PM] Vikingverse
: And then there are the gods. As Marvel's Loki says "I am the monster parents tell their children about at night" Ek em skrímsl þat, es foreldrar kveða um til barna sinna á kvǫldin.
[8:22 PM] Dan the GMshoe: Are the gods literally that in the Vikingverse?
[8:26 PM] Vikingverse
: In the Viking Age, northern kings boasted descent from the divine and claimed heaven as their fief. The Norse emperors held counsel with the Æsir, setting down laws and the fates of men at the Well of Urðr; they rode across Bifrost and into the realms of spirits beyond. According to ancient custom, each of these gods had their own rituals, powers and histories. To these pagans, the World Tree reached down into the darkness of the Underworld as well as up into the Heavens, bearing fruit and greenery, a portal between the realms of men and gods. The question of 'believing in' the Æsir and Vanir was irrelevant – they simply were. The Æsir have maintained their relevance as both progenitors and architects of humanity, beings whose secrets unlocked endless new discoveries and disciplines. They are demonstrably part of a continuum of the supernatural, from ancestor spirits to animated alloys.
[8:28 PM] Dan the GMshoe: How does magic work in the Vikingverse?
[8:29 PM] Vikingverse
: In the sagas, Norse magical tradition is marked by sacrifice and ritual, etched in secrets, and blooded in war. Spells can shape the future, weave webs of battle or spin charms that harness primal forces. But the path of the Wise is not simply one of mystery, dependent on divine power or the tides of fate. It is a path of discovery and learning. In fact, the most common word for "magical" in the Norse lexicon is fjölkyngi, which means great knowledge. One of the jokes in the novels was "Any sufficiently advanced galdar is indistinguishable from technology", the Third law of Arnþórr C. Klakkr (if it isn't obvious the Vikingverse, being a parallel timeline, "norsifies" a lot of luminaries, Arthur C. Clarke included. The various classes in the game have different approaches to their spells, but they are all rooted in the sagas. The Urðr are focused on spinning seiðr and the weave of fate. Their rituals date back millennia, (allegedly) taught by the gods themselves. The Verðandi try to fathom the endless, tangled mind of the Worlds Tree, and the transformative power of galdar. The Skuld utilize the spirits of the earth, marshaling matter and forging new suns. They use complex runes and the code of machines to unlock their marvels.
[8:31 PM] Dan the GMshoe: Generally speaking, who are the PCs, and what do they do?
[8:32 PM] Vikingverse
: Stop the end of the world! In the Vikingverse, the storied heroes of mankind are pawns in a cosmic game, paying the price for the terrible mistakes of petty gods. They might forestall the ruination of man and the doom of the Æsir– or choose to hasten it and become gods themselves.
[8:33 PM] Vikingverse
: Here are some of the Playable Origins (edited)
[8:34 PM] Dan the GMshoe: That's some amazing art.
[8:34 PM] Vikingverse
: Thanks. Ger Cuti.
[8:34 PM] Vikingverse
: Does the comics too.
[8:35 PM] Vikingverse
: As well as stuff for Paizo.
[8:35 PM] Vikingverse
: So some Pathfinder DNA in there somewhere.
[8:36 PM] Dan the GMshoe: You mentioned classes. How many classes are available?
[8:37 PM] Vikingverse
: 4 Novice Paths, 16 Expert Paths and over 50 Mythic Paths. The class system is one of the real bits of genius with Shadow of the Demon Lord. Rob Schwalb really sets his rules apart in this area.
[8:38 PM] Vikingverse
: Gods, is that the time? My wife will have me blood-eagled. Við guðin, es svá áliðit orðit? Kona mín mun rista mér blóðǫrn.
[8:38 PM] Vikingverse
: Dinner is to be served soon!
[8:38 PM] Dan the GMshoe: Oh, need to wrap up?
[8:39 PM] Vikingverse
: Soonish!
[8:40 PM] Dan the GMshoe: Okay! Well, for those unfamiliar, can you describe basic task resolution in the system?
[8:42 PM] Vikingverse
: Well, it is broadly a D20 system. You make a challenge roll when you attempt an activity that is not directly opposed by another creature and the outcome is not certain. Sometimes an action that would ordinarily be simple becomes more challenging under stress or when time is limited. Some examples of challenge rolls include leaping away from an explosion, climbing, swimming, picking a lock, or listening to barely audible sounds. Reducing damage from area effects can also involve a challenge roll.
[8:42 PM] Vikingverse
: Circumstances can make d20 rolls easier or harder. Positive circumstances grant one or more weals, whilst negative circumstances impose one or more woes. Weals improve your d20 rolls. One or more weals might apply to a given roll. For each weal, you roll a d6, and then add the highest number rolled on all weal dice to the d20 roll. For example, if you make a d20 roll with 3 weals – you would roll 3d6. Say you get 3,2, and 6 on those dice. The 6 is the highest number, so you pick that and add 6 to the d20 roll. Woes hinder your d20 die rolls. One or more woes might apply to a given roll. For each woe, you roll a d6 and then subtract the highest number on all the woe dice from your d20 roll. For example, if you make a d20 roll with 4 woes – you would roll 4d6. Say you get 1,5,3,5 on those dice. Since 5 is the highest number, you would subtract 5 from your d20 roll. Weals and woes cancel each other out, one for one. If 2 weals and 2 woes apply to a particular d20 roll, you make the roll normally (since the 2 weals cancel out the 2 woes). However, if it was 2 weals and 1 woe, then you'd roll 1 weal, due to the woe cancelling one of the weals. If 2 weals and 4 woes apply, you'd make the roll with 2 woes (2 weals cancel 2 woes).
[8:42 PM] Vikingverse
: That's a quick copy pasta from the rules!
[8:44 PM] Vikingverse
: Now I see in a previous Q&A you asked about Character Sheets – here is ours:
[8:44 PM] Dan the GMshoe: That's a nice-looking character sheet.
[8:45 PM] Vikingverse
: At least the Kickstarter WIP, One of the great thing about Kickstarters is getting feedback. The original SotDL CS was a little too style over substance for my taste, Have you seen it?
[8:46 PM] Dan the GMshoe: I believe so, but it's been a while.
[8:46 PM] Vikingverse
: This is it on Roll20
[8:46 PM] Dan the GMshoe: Ah, I see what you mean.
[8:46 PM] Vikingverse
: Very pentagram, great for demons.
[8:46 PM] Vikingverse
: No room to write anything.
[8:47 PM] Dan the GMshoe: nods
[8:47 PM] Dan the GMshoe: From what I can see, you've done an excellent job, especially for a first gaming effort.
[8:49 PM] Vikingverse
: Well, information hierarchy is common to all walks of business. You have to make the UX clear – and the game setting authentic and plausible, within the boundaries and laws you set.
[8:49 PM] Vikingverse
: Too much fantasy is arm-wavy.
[8:50 PM] Vikingverse
: I mean, sure, it is fantasy. But at least try and explain why your unicorn exists and what it does on a Wednesday.
[8:50 PM] Dan the GMshoe: I get it. A fair point.
[8:51 PM] Eric E: Nice, didn't realize it was powered by SotDL
[8:51 PM] Dan the GMshoe: Well, I could ask many more questions, but I should let you get to dinner.
[8:51 PM] Dan the GMshoe: Thanks very much for joining us, @Vikingverse!
[8:51 PM] Dan the GMshoe: Usual reminder: If you've enjoyed this Q&A and would like to treat me to a coffee or two, you can do so at https://www.ko-fi.com/gmshoe. Anything's appreciated!
Ko-fiBuy Dan Davenport a Coffee. ko-fi.com/gmshoeBecome a supporter of Dan Davenport today! ❤️ Ko-fi lets you support the creators you love with no fees on donations.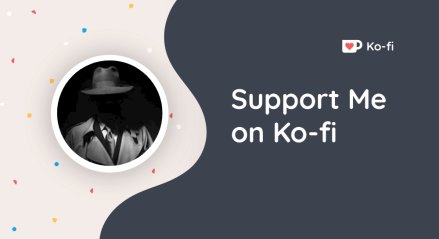 [8:52 PM] Dan the GMshoe: If you'll give me a minute, I'll get the log posted and link you!
[8:52 PM] Vikingverse
: https://www.kickstarter.com/projects/vikingverse/when-the-wolf-comes-rpg(edited)KickstarterIan Stuart SharpeWhen the Wolf Comes RPGAn RPG set in the Doom of Ragnarök, utilizing Robert J. Schwalb's Shadow of the Demon Lord rules and based in Ian Sharpe's Vikingverse.
[8:53 PM] Vikingverse
: Excuse me, I've got to see a man about a wolf. Haf þú mik afsakaðan, ek þarf at finna mann sakir úlfs.