[8:03 AM] Jaimcos: Hello, I am Jaimcos Vessecky. I grew up a dairy farmer, and have since worked in retail, construction, courier delivery, manufacturing, printing press operation, database design, then IT. Along the way I written and published plays, poetry, and short stories. I have been roleplaying since 1987 when I discovered a D&D Basic adventure at a yard sale. This led to explorations into other games: TMNT, Heroes Unlimited, Rifts, Shadowrun, World of Darkness: Vampire the Masquerade. Then more Traveller, Amber, D&D ( 2nd, 3rd, 4th, and 5th ), and so many more. I have been a GM since the beginning, collecting, and running more than 37 different games.

I started working on Nudros in 1995 out of a desire to make a diceless TTRPG system that could be used for any game. The goal was to provide more structure and support to both the Player and Narrator without needing dice, but still using numbers to quantify tasks. Over the decades I have tested and written many versions of Nudros. I investigated publishing Nudros around 1999, at that time the costs were prohibitive and although I kept working on Nudros it was largely put on a back burner, until now. Please see my Kickstarter https://www.kickstarter.com/projects/jaimcos/nudros-numbered-diceless-roleplaying-systemKickstarterJaimcos VesseckyNudros: Numbered Diceless Roleplaying SystemNudros is a Tabletop roleplaying system for any genre. instead of dice, player decisions and there consequences determine results.
[8:04 AM] Jaimcos: Nudros is a game system. About choice and consequence using numbers and traits, but not dice.
[8:04 AM] Jaimcos: Done
[8:05 AM] Dan Davenport: Thanks, @Jaimcos! The floor is open to questions!
[8:05 AM] Dan Davenport: Does the game include any settings, or is it strictly the system?
[8:07 AM] Jaimcos: I have 4 settings, I call them genres, written or partially written. One comes as an example in the Main rulebook, both to give a starting point and use as an example of how to build your own.
[8:08 AM] Jaimcos: Rae Paa Gia, a fantasy setting is used as the Default example, the whole setting does not fit, but a playable example is included.
[8:09 AM] Zakaraja: How is character creation handled? <condensed version :)>
[8:10 AM] Dan Davenport: (Welcome to Randomworlds, @Zakaraja!)
[8:12 AM] Jaimcos: Character Creation: Talk amongst group, Pick your Genre/world, Select Power level of campaign, put together a concept, allocate points to traits based on power level, Spend some DP ( develop points ) to flesh out your character and make then unique, add narative and backstory to character, Play Nudros.
[8:12 AM] Jaimcos: In a nutshell (edited)
[8:12 AM] Zakaraja: Thank you.
[8:13 AM] Dan Davenport: What sorts of unusual powers can the core rules handle?
[8:16 AM] Jaimcos: The system is set up to allow anything with in the power level of game. Technically you could play a "gritty" level god, but they would a very nascent being barely more powerful than the average person. On the other hand if the campaign is set to "epic" that same 1st level god would be a diety with powers to reshape the world, if the player set them up that way. What World Builder allows you to do when setting up your Genre is select the powers you want, from cyberware to magic to super powers. And if something is not in the examples in World Builder then Thing Builder is there to help a Narrator design a power for themselves. (edited)
[8:18 AM] Dan Davenport: How would you build the superpower of Weather Control, for example?
[8:18 AM] Jaimcos: The Rae Paa Gia setting comes with the "Will and Word" magic system as an example.
[8:22 AM] Jaimcos: Basically, depending on campaign level, you would assign a special trait for the controlling Attribute, if just for Weather Control, then you could call it that. Then you would have skill like traits under that, these would be for specific powers. Such as Wind Control, Rain, Hail, Lightning, etc. These would all have ratings and work using the same basic resolution as any other task. So someone with Weather Control but no skills would need to use a lot of Fatigue to get things done.
[8:22 AM] Jaimcos: The campaign level would alter how much could be done how quickly
[8:23 AM] Harrow: Without dice, how does the game master decide on the consequences of the players actions?
[8:23 AM] Dan Davenport: (Welcome to Randomworlds, @Harrow!)
[8:23 AM] Dan Davenport: On a related note, can you describe basic task resolution?
[8:24 AM] Jaimcos: Sure, some background: Inner Strength, is a core stat acts as a Limit and a pool of points to get out of issues. Stamina and Health, are stats determine Fatigue Pools and Damage Pools and recovery rates. Fatigue is used spent to power tasks. By spending more Fatigue, you increase the task total to accomplish a task. Attributes and Skills, are the traits used to resolve tasks. Aside from the base Attributes of Mind, Body, and Soul, attributes are used to define and power Genre specific traits, like magic, cyberware, etc. When you spend fatigue, you increase how much attribute is applied to a task. Skills define a trait representing training and experience in a specific task, this includes everything from fighting, mechanics, to spells and is used to represent how things like cyberware affect results in Nudros. Skills directly affect a result by directly reducing the target number of the task, if the Target Number is reduced to zero or less the character succeeds on skill alone and no fatigue needs to be spent.
[8:24 AM] Jaimcos: To Jump a gap, as an example of task resolution. The Narrator sets the Target Number ( TN ) based on the size of the gap, the player then subtracts their applicable skill from the TN, if the result is over zero then the player would need to spend Fatigue to succeed at the task, depending on how physical ( Body ) the character is and how large the gap, the more Fatigue will need to be spent. (edited)
[8:27 AM] Dan Davenport: I'm still not competely clear on how attributes are applied. Could you use our standard example of someone attempting to leap over a gap?
[8:27 AM] Dan Davenport: Using the sample character you posted?
[8:28 AM] Jaimcos: Sure…
[8:30 AM] Jaimcos: If Shala was presented with a gap to jump over the Narrator ( GM ) would set a Target Number ( TN ). For a gap slightly larger than an Average stride we will say it is easy ( TN 2 ).
[8:31 AM] Jaimcos: Shala has no Athletics, so she subtracts 0 from 2, no change in the TN, Shala is not an athletic person, she prefers to ride her horse :).
[8:34 AM] Jaimcos: She would then need to spend Fatigue to power her jump across the gap, starting with light fatigue, her player chooses to spend 1 fatigue, just enough to clear the gap. Shala has a body of 2, spending 1 Light Fatigue adds 2 to her Task Total, giving her a bare success. That Light Fatigue will fade after 5 minutes of rest.
[8:37 AM] Jaimcos: On it's own, not a difficult and easily recovered, but if in an active chase, or situation where no rest is available to Fatigue will build with every choice. Shala's Player could also have chosen to spend more Fatigue to get a higher Task Total and have a cleaner jump or even more fancy crossing – maybe throwing on a flip.
[8:38 AM] Dan Davenport: I note that you say "Light Fatigue" there. What other levels of Fatigue are there?
[8:42 AM] Dan Davenport: (brb — need more coffee!)
[8:42 AM] Jaimcos: There are 3 levels of Fatigue and Wounds. You start at Light Fatigue ( 5 minute recovery per point), Fatigue ( 15 minute recover per point ), and Strain ( 30 minute recover per point ). Wounds go from Light Wounds, Wounds, then Injuries. As you heal the damage and strain recover to the next lower level and as you push the points go up. So if you use all your Light Fatigue, the next time you need to do something it will be Fatigue, then Strain when that is gone, then into damage. Similiarly when you heal damage it drops to next lowest tier, then drops from Light Wounds to Strain, etc.
[8:42 AM] Jaimcos: Coffee!!!
[8:43 AM] Harrow: Can you easily transfer characters from one genre to a very different genre setting?
[8:47 AM] Jaimcos: Simply, not really. It really depends, most genres will be very customized, and while the underpinnings are all the same, Magic Systems maybe completely different or magic may not exist in a given Genre. So nope, not unless they are designed from the start to be compatible. Now you could translate a character between, the base traits are the same. But in some Genres even the skill lists are quite different. For example, the skills in a high fantasy and space opera setting can be very different, and the skill list in a modern setting different again.
[8:47 AM] Dan Davenport: Does all damage start with Fatigue, or does it go straight to Wounds?
[8:49 AM] Jaimcos: Fatigue is primarily self inflicted through powering abilities. Some special attacks ( stun spells and weapons ) may attack Fatigue. But mostly combat is applied to Wounds
[8:50 AM] Zakaraja: So fighting hand to hand would be contested skill levels? One subtracted from the other? Does that determine would levels?
[8:50 AM] Zakaraja: errr Wound levels
[8:52 AM] Jaimcos: Combat is usually resolved as a contested task, where you compare Task Totals. Skill is used to reduce your targets Defense or increase your own, you must choose. Then you resolve how much Fatigue you want to spend and derive your Task total ( in this case your attack result minus their defense ), Then who ever has the highest wins the attack and the result is the difference in values – The greater the difference the greater the effect, in either more wounds or higher level wounds ( you could take "pay" a number of points to "call the shot" effectively doing a greater wound )
[8:54 AM] Dan Davenport: What are the impacts of weapons and armor on combat?
[8:58 AM] Everildis: (For after discussion on that one. I'm going to ask a conceptual question, how do you factor in the hand of fate without the random nature of dice?)
[9:00 AM] Jaimcos: In Melee with 2 characters with swords and armour. Each character would mount an attack using the opponents Armour rating as a base Target Number ( Possibly increased by the Opponents Skill if they choose to use it for defense instead of attack ) from which they would subtract their own weapon rating ( and Skill if they chose to use it for Attack ). At this point the player would then choose to spend Fatigue to increase the Task Total to get a greater advantage on the enemy (edited)
[9:04 AM] Jaimcos: Fate – As a player ( and thanks to Player choices, the Narrator too ) you have no idea what is coming and so must make choices in the moment that have consequences. These can be as simple as building Fatigue, which is then not available for future tasks, to choosing to let something distasteful happen while you rest to recover Fatigue and Wounds. The choice and unkown mean Fate is hanging in the future and what you choose now will influence what your Fate is in the future.
[9:06 AM] Dan Davenport: (I have a follow-up question but will let you answer @Everildis first.
)
[9:08 AM] Everildis: So the Narrarator can surprise me and I (Player) can surprise the Nararrator with our choices, so the impact could be better (or worse) than hoped for?
[9:09 AM] Dan Davenport: I'm assuming that players don't know the Target Numbers?
[9:11 AM] Jaimcos: yeah, but also the Fatigue system means you can push your character. Think of say Harry Dresden in the Novels by Jim Butcher, as he pushes from challenge to challenge never stopping to rest he has less and less to give. If you run out of Fatigue by acting aggressively now, you will not be able to act in the future. Effectively making decisions to act now at cost of being able to act later.
[9:16 AM] Jaimcos: The Player is aware of the Difficulty of the task, so they know the range of a task. But the exact TN is modified by modifies ( no more than +/- 3 ). The goal is for players to make the choice fairly well informed. But also to leave room to go over the TN to get greater effect than just barely succeeding. You can make a sword out of a sheet of steel, a grinder, and some hockey tape — it would work and count as a success. Or you could craft a multistep master peace out of the finest materials, finely balanced and comfortable to use and deadly to face
[9:17 AM] Jaimcos: A Player can almost always choose to succeed now, at the cost of not being able to succeed later.
[9:18 AM] Dan Davenport: Is NPC task resolution handled in the exact same way as PC task resolution?
[9:20 AM] Jaimcos: Basically, but there are some shortcuts for the Narrator. Bit characters will have simplified character sheets that give a pretedermined Task Total for likely tasks at a fixed Cost, reducing Narrator tracking.
[9:21 AM] Jaimcos: So a Goblin Warrior might be set up to Melee TT 6 attack, 3 Defence, for 1 Fatigue ( or 4 times ).
[9:22 AM] Everildis: Another one for the queue: My other big picture question, (and part of what drew me to this project), you've mentioned having a team for the project (like some artists), what does that look like?
[9:24 AM] Jaimcos: Right now, it is basically me writing, designing, drawing, everything. I have some friends who have assisted with some editing and even some writing. If the campaign goes well the goal is to hire more art for the game ( I am really only a Black and White sketch artist ) and pay those friends for a full edit and copy edit. Right now, Nudros and Jaimcos Knowledges are my pet project.
[9:27 AM] Dan Davenport: Going back to combat for a moment… Do the player and GM reveal their totals at the same time, or does the GM reveal the NPC's total to the player? If the latter, is there no way for a PC to fail unless (1) he wants to or (2) he runs out of Fatigue and Wounds?
[9:32 AM] Jaimcos: The TN ( aka Defense ) is declared first by each side, then Weapon attack is subtracted, then each side generates a Task Total, those are revealed at the same time. So you will have a very good idea of the Defense of any opponent, but not what they Task Total they generate are. Now as you play and get to know the various NPCs ( especially the bit NPCs ) Players will be able to cage how much they need to put in to win, and should be able to choose that victory each time. But slowly they will go through Fatigue and the "Boss Fight" is usually after the minions….
[9:33 AM] Jaimcos: TLDR yes to 1 and 2, A player can spend Fatigue on a task until they die to win. (edited)
[9:34 AM] Dan Davenport: Right, but it sounds like the player doesn't know how much Fatigue that the NPC is going to spend, so the player might not spend enough and end up with the PC wounded. Do I have that right? (edited)
[9:35 AM] Jaimcos: Yes
[9:35 AM] Dan Davenport: So effectively, combat is the only circumstance in which the player won't know the final Target Number to beat.
[9:35 AM] Jaimcos: You can misjudge an opponent or the environment. You could still fail
[9:38 AM] Jaimcos: With a range of +/- 3 the Player will know the TN for tasks that are not contested out side of combat. Contested tasks are any task were another force is actively resisting ( usually a form of combat, though not necessarily physical. Could be Social, intellectual, Magical, Cybernetic, etc ) (edited)
[9:40 AM] Dan Davenport: So how would you handle an aspect of the difficulty that the PC can't perceive? For example, going back to our gap-jumping hero, what if the ground ahead of the gap were especially slick for some reason, and the PC couldn't tell?
[9:42 AM] Jaimcos: The Player does not get the TN – Just the Task Rating ( so they are told it is Easy(2)), but they do not know the modified TN, so the real TN may be 1 because the other side of the gap is lower and has excellent traction, or 5 because the other side is slick, wet, and at a slight angle toward the edge.
[9:43 AM] Dan Davenport: Aha! Okay, I get it now.
[9:43 AM] Jaimcos: Does not stop them from guessing
[9:43 AM] Dan Davenport: nods
[9:44 AM] Dan Davenport: Regarding weapon damage, it sounds like the system conflates weapon power and accuracy. That being the case, how would you handle a powerful attack that is inaccurate, like a boulder rolled down a cliff or a shot from an old-fashioned cannon?
[9:44 AM] Dan Davenport: Or, on the flipside, an accurate attack that won't do much damage?
[9:51 AM] Jaimcos: This becomes a choice. In the main rulebook, as part of the World Building/Character Creation steps the group has a discussion. Part of that is a choice of how much or little granular detail they want in combat. If the group wants to focus on the story and resolve combat as quickly as possible, then they do use the simplest stats, Attack and Defense, and that is all. If they want more complexity, then optional rules are available to add that, breaking things down and allowing for more detailed equipment stats to be used. Things like Accuracy, Penetration, Damage, Tech Level, etc. In the case your group chooses a more granular combat resolution then Accuracy is applied to Attack Skill, Penetration subtracts from opponents defense, and Damage would increase the Damage done ( or level of Damage ) if there is a hit.
[9:52 AM] Dan Davenport: Ah! I like that flexibility.
[9:52 AM] Everildis: So this would allow folks to specialise in a sense
[9:56 AM] Jaimcos: There are no classes, so every character is unique and highly tailored to what the Player wants and what the Group wants, thus the first step in Character Creation is to talk with everyone playing to make sure the game is going to be what people want to play. My goal has been to craft a system that allows that flexibility. When I started this decades ago, I started writing and testing many many different ways to resolve things. And while it is not perfect ( I do not believe in perfection ) it has flexibility to offer choice. (edited)
[9:57 AM] Everildis: ooo I love the ability to tailor it to newbies vs experienced players
[9:57 AM] Dan Davenport: In the time remaining, is there anything we haven't covered that you'd like to bring up?
[9:58 AM] Dan Davenport: And I'd just like to say a quick thank you to those of you who showed up for today's Q&A! I hope you've enjoyed your visit and that you'll continue hanging out with us! You're always welcome!
1
[9:58 AM] Jaimcos: There is so much more in the book…( decades of my life )
[9:59 AM] Jaimcos: Thank You @Dan Davenport I am grateful for the opportunity to talk about Nudros.
[9:59 AM] Dan Davenport: You're very welcome!
[9:59 AM] Dan Davenport: Usual reminder: If you've enjoyed this Q&A and would like to treat me to a coffee or two, you can do so at https://www.ko-fi.com/gmshoe. Anything's appreciated!
Ko-fiBuy Dan Davenport a Coffee. ko-fi.com/gmshoeBecome a supporter of Dan Davenport today! ❤️ Ko-fi lets you support the creators you love with no fees on donations.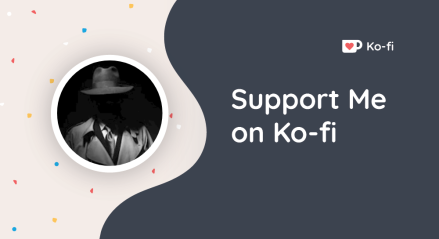 [9:59 AM] Everildis: Thanks to @Jaimcos and @Dan Davenport , really interesting
1
1
[10:00 AM] Dan Davenport: Now, if you'll give me a minute or two, I'll get the log posted and link you!