8:44 AM] Nemo: Hi there, I'm Nemo, creator of Zin Never Dies. I'm an artist & writer working on this project for about three to five years now, depending on what you'll call the "start."
[8:45 AM] Nemo: The game is a ghibli-inspired roleplaying system & world! It draws inspiration from lots of sources; some well-known, some obscure.
[8:46 AM] Nemo: A couple of weeks ago, I finally launched a Kickstarter Campaign to fund it and got funded within the first 48 hours!
[8:47 AM] Nemo: I'm excited for the game, the design process, and to be here talking about it
[8:47 AM] Nemo: (done) here
[8:47 AM] Dan Davenport: (Sorry, no, it's all text.
)
[8:47 AM] Nemo: Oh good, that's what I had in mind
[8:48 AM] Dan Davenport: For those unfamiliar with the source material, can you describe the setting?
[8:49 AM] Nemo: Sure thing! The game is set in a world of masks & spirits, equally charming and spooky. It's a fantasy world including elements such as magic, gods, spirits, and legends.
[8:50 AM] Nemo: The world of Zin Never Dies is a strange place; The world has ended several times, mostly because of the gods. Because of this, folks have grown distant from these selfish and enigmatic gods.
[8:50 AM] Dan Davenport: What sort of time period is this?
[8:51 AM] Nemo: The world is set in a vague "~medieval~" time which contains technology from what we think of as the renaissance, but also things as old as the 14~15 century.
[8:52 AM] Dan Davenport: So if it's Renaissance, are there early firearms?
[8:54 AM] Nemo: Not at present, but the world is showing signs of an upcoming technological revolution. The game is set in the year 1300 of the 4th era. If I were a player coming into this world, I'd keep my eyes open for any inventors. Firearms may not be too far in the future.
[8:55 AM] Dan Davenport: How common is magic, and how powerful does it get?
[8:57 AM] Nemo: Magic is called Zin in this world, hence the title. It's common enough, seeing how everyone has at least a little. Real serious magic, the kind that can solve serious – sometimes deadly – problems, that's a little more scarce. Still, even in the least magical areas, it's about 50/50 whether a random traveler on the road has Zin.
[8:59 AM] Nemo: Magic is divided into Towers (schools) of Zin. Each Tower allows the user to bend some aspect of reality. They have names like "creation," "life," "alteration," so they're quite a bit more dynamic than D&D spells, which tend to be static.
[9:00 AM] Dan Davenport: Is magic improvisational, then?
[9:02 AM] Nemo: On the scale between D&D and something completely Dynamic like Mage: The Ascension, ZND (Zin Never Dies) lies in the middle. The power level of characters matter a great deal, but so does their creativity. A weaker player can win against a strong enemy if they use their Towers in creative ways.
[9:03 AM] Nemo: Much like bending in the series Avatar: The Last Airbender, the magic is the framework. How you use it, is up to you. Of course, in that setting there were 4. In ZND there are 9, and more being unlocked on the Kickstarter as we speak
[9:04 AM] Dan Davenport: What are the limits on using magic? I'm thinking in terms of magic points, spells per day, stamina loss, etc.
[9:06 AM] Nemo: The limits come in two forms. For one, there are your Zin slots. Using Zin for something as simple as making a spark to start a fire is a simple action and may cost nothing at all. If you have points in the Tower of Fire, it's much like another stat, like strength or dexterity. Simply roll the die and the thing is done. For any action more complicated than a "cantrip," you'll need to spend some Zin Slots. Everyone, no matter how weak or strong, get 5 slots per day.
[9:08 AM] Nemo: The capacity for doing truly epic things with magic comes as you invest points into each Tower. A Tower has 5 levels, ranging from cantrip-level tricks at the bottom to biblical-level wonders on the 5th floor! The higher you go, however, the more Zin Slots it's gonna take. That way, the game maintains a balance of epicness and realism. The miraculous moments do happen, but rarely enough that they don't lose their weight.
[9:10 AM] Nemo: The other restriction is Spirits. Much like in many religions, shinto being one of them, the world of ZND is ruled by spirits of all shapes and sizes. Each spirit has a domain. Some have a domain as big as a cave, while others may lord over an entire city. These spirits are worshiped by the locals and provide all manner of benefits in return.
[9:11 AM] Nemo: However, using Zin to change the world can upset them. The spirits would like things to stay as they are, thank you very much. Because of this, when you change the world in big ways, the spirits will resist you, whether you know it or not, and the consequences may be dire.
[9:12 AM] Dan Davenport: Do domains overlap, or is there only one spirit in charge of any given place?
[9:14 AM] Nemo: The spirits never meddle in each other's domains. Because of that, players might experience some whiplash going from one domain to another. You see, spirits dislike different Towers, so the players might suddenly enter one where teleportation is extremely difficult, from one where Fire was the hardest magic to perform.
[9:14 AM] Nemo: Because of this, travelling blindly in the wilderness can carry plenty of dangers.
[9:19 AM] Dan Davenport: With only 5 Zin Slots, it sounds like magic duels don't last very long.
[9:21 AM] Nemo: Not just magic duels! Battles are short and deadly in ZND. Damage is dealt in a unique way that divides it between "HP" damage (light wounds) and "LP" damage (deep injuries), which means you rarely get out of a scrape unharmed. It also means healing takes longer. In this aspect, it's a more punishing system than many others.
[9:22 AM] Nemo: It also means that each combat encounter carries a lot more weight. If someone pulls out a small knife in many RPGs, it's almost a joke. In ZND, even that can stop a room dead because they know that there is always the potential for bad injuries, even accidental.
[9:22 AM] Dan Davenport: Interesting.
[9:22 AM] Dan Davenport: Who are the PCs in ZND, and what do they do?
[9:25 AM] Nemo: In ZND, the players inhabit residents and travellers on Djin-Za, the setting continent of the game. They are rarely "adventurers," in the common sense of the word. "Adventuring" in itself is not an occupation, rather something that happens along they way to a goal. Every PC in ZND has their own story, their own skills, and their own goals to achieve out in the world. However, because everything from the gods to the spirits to society itself tells folks of this world to "stay put" and "keep your head down," pursuing their goals might lead them to adventure whether they like it or not.
[9:27 AM] Nemo: ZND presents a world & system for parties to take wherever they like. We've had a GM run a one-shot of ZND where the game was a cooking show bake-off, with each team racing to find the mystery component to make the best dish. I've also seen people using it for short, action packed adventures, and even for adventures with no combat whatsoever.
[9:28 AM] Dan Davenport: Are the PCs all human?
[9:30 AM] Nemo: No humans like our real-world humans, but there are certainly ZND's brand of humans. There are 7 playable species, counting the newly unlocked insectoid species from out Kickstarter campaign. (edited)
[9:31 AM] Nemo: They range from cute, masked folks to humans with god-given antlers, leopard-like people, slugs in suits of armor, enormous and ingenious hardened giants, and more!
[9:32 AM] Dan Davenport: Can you give us a brief overview of the 7 species?
[9:36 AM] Nemo: Sure thing! 1. The Masked are the smallest as well as the most Zinful. They are not born, they simply… emerge. No one knows how or why, only that they come fully formed our of caves in the distant north-east. Their masks are all unique, all bone white, and all irremovable from the moment of their spawning to the moment of their death. 2. The Nuk are similar, but don't confuse them for Masked or they'll whap you on the spot. Nuk are Masked who decided to cut off their connection to Zin and live an earthly life more connected with the material world than mystical matters. Their masks are deformed, decorated, and express their personalities.
[9:37 AM] Nemo: 3. Humans are a minority among the species of ZND. They were the majority once, ages ago, and ruled with such force that their collapse fractured the world itself. Since then, humans are marked by Antlers given to them by their creator "The Great Stag god." They are agile, adaptable, and moderately Zinful.
[9:39 AM] Nemo: 4. The Feborn are the most common, especially in the west. The quick-footed leopardesque folk have the lower have of a large cat and the upper half of a well-train athlete. They rule the western continent as firmly as the humans once ruled it all. Their homeland, Fena/Luina, is still a sight of holy pilgrimage for some.
[9:41 AM] Nemo: 5. The Suits are giant forest slugs. They happen to be quite intelligent too, and Zinful. So when a 2nd era monk (for some reason) decided to plop one of them into a suit of armor, they were shocked to discover it didn't fall over. In fact, in started walking. The restriction of the armor allowed the slug to use much finer motor actions. Since then, they've roamed the land, usually as hired hands and occasionally, as poets.
[9:43 AM] Nemo: 6. The Hardened are the strongest and the smartest of the species on Djin-Za. They're also the largest! So how come they haven't taken over the world yet? For two reasons: for one, they immense size makes fine movements quite difficult, hurting their dexterity badly. The other extraordinary disadvantage is their complete lack of Zin. None at all. People have theories, but no one quite knows why this is the case.
[9:44 AM] Nemo: 7. The Heka are an upcoming insectoid species which hail from an island off the coast of Djin-Za called Nina. Their description, as well as more art, is coming soon!
[9:47 AM] Dan Davenport: What's the story with the big goat?
[9:48 AM] Nemo: Haha the big goat became something of a meme among my players. They saw an early art-piece for it and assumed it was the size of an average goat. By the time they came into close contact with it, it was a little too late hehe
@NemoHaha the big goat became something of a meme among my players. They saw an early art-piece for it and assumed it was the size of an average goat. By the time they came into close contact with it, it was a little too late hehe[9:49 AM] 13Swords: what, were they looking at it from under a bridge? (is troll joke.) But seriously, the goats are shown as playable races. Are there tasks they're not fit to do (such as lock picking) in return for superior capabilities (land speed, imperviousness to tripping, superior climbing capabilities?)
[9:50 AM] Nemo: Haha no, unfortunately the goats are not a playable species at the moment.
[9:50 AM] Nemo: However, I did forget one! The Tower Dwellers, the avian species with wings, but no arms. They alone can live where they do, in a land cracked by an ancient earthquake. They are the majority in the east where they share the inhabitable land with masked, humans, and the occasional feborn. (edited)
[9:52 AM] Dan Davenport: Do you have a character sheet that we can see?
[9:53 AM] Nemo: Sure thing!
[9:56 AM] Nemo: Both a print & fillable PDF versions are available on the Zin Never Dies website as well as the free Quickstart Guide
[9:56 AM] Dan Davenport: Let's see… Looks like this may be an attribute + skill system of some description?
[9:56 AM] Dan Davenport: (brb)
[9:58 AM] Nemo: It sure it! Each character has their 5 main Stats (STR, DEX, WIS, CON, ZIN) as well as their skills & knowledge to help them out in specific tasks. Those skills don't come from a set list. Rather, the players come up with them, and the finished skill is refined into a definite title by the GM. Then, when the GM grants the players XP, they can invest it however they want among their skills, knowledge, and Zin Towers. Their Stats are never going to change, but their skills, towers, and knowledge are always evolving!
[10:00 AM] Dan Davenport: Can you describe task resoluton?
[10:01 AM] Nemo: This may be the most non-traditional part of Zin Never Dies. Most RPGs use dice in a similar way, meaning "bottom up." To put it simply: low number bad, high number good. Not here. In ZND, the die doesn't determine success or failure, only whether you did "as expected."
[10:03 AM] Nemo: Instead of "botton up," rolling dice in ZND is "middle out." Meaning, the golden ratio is in the middle, around 10 when rolling a D20. You can overdo as well as underdo whatever task you set your character to.
[10:03 AM] Nemo: Better stats help you increase that range in the middle called the "Fitting Range," making it more likely you won't under-or-overperform.
[10:05 AM] Nemo: Yet, a weak character rolling a perfect 10, a Fitting Action, still won't budge the heavy door. They did "as expected" of a character with low STR, which isn't great. A strong character with high STR on the other hand, might want to roll under their Fitting Range, to avoid overdoing it and maybe smashing the door to pieces.
[10:07 AM] Nemo: In our playtesting, this system encourages players to behave realistically, and keeps games from becoming a cascade of endless progression toward overpowered infinity. Then, when those strange, extraordinary things do happen, when a mad plan actually succeeds, they keep that memory for months or years! I'm incredibly happy with the response from playtesters since this is, admittedly, a strange system.
[10:08 AM] Dan Davenport: Hmm. I'm trying to wrap my head around this. Can you give me another example, this time with the relevant attribute and skill scores? (edited)
[10:14 AM] Nemo: Sure! I'll use the example from out Kickstarter page. Alek (short for Alekander) is a Hardened lumberjack, a large and strong individual who knows his way around wooden constructions. His STR is 13 and he has a lvl 2 skill called "woodworking." His beloved kitten Mavis is trapped behind a locked door which he built himself. However, ther's no time to bring the key because the house happens to be on fire. The GM assesses the situation and decides on the difficulty of the task, which is not a single number, but a range. For example, for breaking the door down, he decided the range of success is STR 8-13. If a character with 8 STR rolls a Fitting Action, success! And it a character with 13 STR rolls a fitting action, and anything in between, also success! However, people don't always do as well as expected… Alek, short for time, tries to break open the door. No problem! The Hardened species are famously strong! If Alek rolls 10, he'll do as well as expected from a large, 13 STR Hardened, and break the door open with ease. In fact, he can afford to roll a few numbers "Below Fitting" and still do just fine. HOWEVER, if he rolls "Above Fitting" he won't just break the door open, but entirely off its hinges and down to the floor. It might crush his beloved Mavis! (edited)
[10:15 AM] Nemo: This is an example of when a high roll might be worse than a low roll, or at least just as bad
[10:17 AM] Dan Davenport: So 8-13 was the difficulty range, and it's a roll of 1d20… How do the 13 STR and 2 Woodworking factor in? (Sorry, dense this morning.)
[10:19 AM] Dan Davenport: Is the 1d20 adding to 13 + 2 = 15?
[10:19 AM] Nemo: No worries at all! It's a strange thing to get one's head around in text without actually playing. The 8-13 refers to the player's stat. A player with 8 STR can roll within their Fitting Range and succeed, but if they roll below it, they'll roll as expected of someone with a lower stat, and therefor fail.
[10:20 AM] Nemo: If you roll a Fitting action (10) or anywhere within your fitting range (around 10), the "result" for the GM is whatever your Stat is. That player performed exactly like someone with 13 STR would, therefor, if that's within the difficulty range, they succeed!
[10:21 AM] Nemo: However, they can overdo it, and roll above their fitting range, performing as expected of someone with 14 or even 15 strength. In that case, that player has overshot their way beyond the range and failed.
[10:22 AM] Dan Davenport: So in this case, if the 13 STR character rolls a 10, the result is 13?
[10:22 AM] Nemo: Exactly right!
[10:22 AM] Dan Davenport: So… if the character rolls an 11, is the result a 14?
[10:24 AM] Nemo: Not quite. The fitting range is big, usually 2-4 numbers around 10 on either side. That means some players can roll 14 and it would still be inside their Fitting range and the result would still be, in this case, 13. Skills help increase your range, so the result can be more predicable and reliable.
[10:24 AM] Nemo: When a player over or undershoots the Fitting Range, the result can vary by 1, 2, or very very rarely, 3 points. That much is up to the GM.
[10:25 AM] Dan Davenport: So in this example, with a skill of 2, the 13 STR character could roll from 8-12 and still get a 13?
[10:25 AM] Nemo: That's right. The skill helped increase his range to make the roll safer and more reliable.
[10:26 AM] Dan Davenport: What would the player need to roll to get, say, a 12 result?
[10:30 AM] Nemo: They'd need to roll below their fitting range, anywhere from 7 to 4. The game leaves the "harshness" or "leniency" of numbers up to the GM but makes sure to note that whatever they choose, they have to be consistent. A GM can choose to let their players go 1-2 points away from their stat, or 2-3, or even 3-4, as long as they are consistent about it.
[10:32 AM] Dan Davenport: How did you arrive at 7 to 4?
[10:34 AM] Nemo: In my games I only let the players stray 1 or 2 points from their Stat. In this case, I simply divided the "underdo" range into two. 1-7 is the field, and as the GM, it would be up to you to make a snap decision like this one whenever a player rolls wildly out of their range.
[10:36 AM] Dan Davenport: So essentially, even if the player rolled a 1, the door-breaking would be a success, because it would still be within 8-13?
[10:38 AM] Nemo: Yep! That's the advantage of a high stat. After all, how likely is it, really, of an incredibly strong person to fail a task perfectly suited for them?
[10:38 AM] Dan Davenport: Okay, I think I have it now.
[10:40 AM] Nemo: Awesome! This system, more than any other I've found is like riding a bicycle. Once people get it, it sinks in. As strange as it is to put down in text, every single playtester that came through our server got everything they needed to know on the first session, and rarely needed clarification after the intuitive system took hold. But there's another side to the coin of the Fitting Action system. Because that means that if their stat is too low for the task at hand, say their DEX or WIS, sometimes not even a 20 will be enough.
[9:52 AM] Dan Davenport: You touched on this earlier, but can you describe how combat works?
[9:52 AM] Nemo: Sure thing
[9:54 AM] Nemo: The game requires 2 dice to play. That's it. The D20 for nearly everything, and a D12 for combat. In many ways, the ZND combat system is the same as many you've played before; turns, rounds, etc. In some ways, it's quite different. For one thing, damage can go to your hit point OR your life points, but never both.
[9:55 AM] Nemo: Hit Points (HP) represent shallow injuries; cuts, bruises, things that might sting but pose no long-term trouble. When you're out of HP, you faint. Life Points (LP) represent serious injuries, sickness, and life-threatening conditions. When you're out of LP, you're dead.
[9:56 AM] Nemo: The D12 determines the damage dealt, and the weapon determines what kind of damage that'll be. Each weapon has a "lethal range." If the D12 lands in that range, the damage will be LP damage. If not, it'll go to your HP.
[9:57 AM] Dan Davenport: What determines how many points of damage?
[9:59 AM] Nemo: The D12. Here's a visual example for attacking with bare hands, which has a lethal range of 1-2.
[10:00 AM] Dan Davenport: So if you roll a 2, it's 2 points of lethal damage, but if you roll a 3, it's 3 points of hit point damage?
[10:02 AM] Nemo: That's exactly right. Attacking with bare hands can do a good amount of shallow damage, or a little serious damage. On the opposite end, a dagger has a lethal range of 11-12, since it will either do a good amount of shallow damage or, if it hits the right spot, a huge amount of bleeding.
[10:03 AM] Dan Davenport: Huh! That's pretty clever.
[10:03 AM] Dan Davenport: How does armor function?
[10:07 AM] Nemo: Armor can help a little by reducing damage from the D12. So for example, rather simple armor can get rid of the '12', meaning if your opponent rolls a 12, it's an 11 instead. Better armor can get rid of 11-12. Amazing armor can do more, but those are so chunky, most players opt out of carrying them around.
[10:08 AM] Nemo: Armor won't help against any damage, but it'll prevent you from getting killed by three or four lucky shots.
[10:09 AM] Dan Davenport: What is the system for using Zin?
[10:12 AM] Nemo: Zin, when used for simple things, works like any other stat. The player describes their action and rolls a D20. For more complicated/grand actions, they need to have invested points into their specialization, also called Towers. The harder the task, the more Zin Slots it'll take. The upside is that once the player spends a Zin Slot, the action takes place. No questions. That doesn't mean there's no chance to fail, of course. Spirits are always ready to mess with misbehaving players hehe
[10:13 AM] Dan Davenport: Are there monsters in this world, and if so, how common are they?
[10:18 AM] Nemo: The world of ZND is full of strange creatures, many of which are powerful and scary, and just as many are harmless and friendly. The game's realistic take on combat & damage makes even a simple encounter with a few wolves a frightening event. Because of this, the truly grand creatures are scarce, but make a deep impact when they do make an appearance.
[10:19 AM] Dan Davenport: How large is the bestiary, and can you give us some of your favorite entries?
[10:21 AM] Nemo: The bestiary will include 50+ creatures, many of which will be fully illustrated, and other will be sketched. Three creatures in particular will be the creation of Backers who've pledged 300 euros to make their own beasts with us! I look forward to seeing what they come up with
[10:22 AM] Nemo: One of my favorites is the Tsum-Mother, a strange masked creature who carries a single egg with them for their entire life. Their goal is to find a spot to put it. Once they do, they can die in peace and the egg can hatch, producing another Tsum-Mother and another egg.
[10:23 AM] Dan Davenport: That's lovely.
[10:23 AM] Nemo: Another favorite is the Blind-Needle-Snake. These critters have scared the heck out of my players more than once!
[10:24 AM] Dan Davenport: No game is perfect. What is your least favorite aspect of ZND?
[10:26 AM] Nemo: Hmmm you know what, I haven't thought about it. If I had to choose, I'd say it's Hunger. I wanted very badly to integrate it into the character sheet, to make it a real aspect of survival, but in the playtesting it became clear that players and GMs didn't enjoy keeping track of it. It was a good decision, but I still regret not being able to implement a similar mechanic to keep track of time.
1
[10:27 AM] Panjumanju: Just poking my head in to say – wow, there's some great layout work going on here. I really like the distress texture on the black to make it look like a 4-colour press impression. It helps the inverse type stand out more.
2
[10:28 AM] Dan Davenport: @Panjumanju is tonight's Q&A guest.
@PanjumanjuJust poking my head in to say – wow, there's some great layout work going on here. I really like the distress texture on the black to make it look like a 4-colour press impression. It helps the inverse type stand out more.[10:28 AM] Nemo: Thank you so much! It took plenty of trial and failure to get a layout that made me happy, and I'm gladded I chose this one
(edited)
[10:30 AM] Panjumanju: I'm sorry I've come in so late, and I apologise if this has already been covered, but could you talk a little about what drives the PCs to interact with these creatures within the system?
[10:31 AM] Nemo: Sure thing
[10:34 AM] Nemo: The creatures inhabit the world between little havens of civilization. They'll interact with the players along the way, usually in minor ways, and occasionally in big ways that are meaningful to both plot and gameplay. Creatures often represent the will of the spirit controlling that valley/mountain/etc. Cruel, violent behavior from them can give hints to the party as to what's wrong and what the spirit wants from them.
[10:35 AM] Nemo: Certain creatures can be pets, and others can be communicated with to a limited extent. However, the biggest part they play is just existing in the world, making it feel lived-in and lively.
[10:35 AM] Panjumanju: So, Zin is a world of animal-like spirits and vast wilderness with only havens of civilization where the PCs are tasked with quelling disquieted spirits, is that about the size of it?
[10:38 AM] Nemo: That's not far off! Spirits play a part, but the game has a variety of problems facing he PCs. In many areas, people are the main source of conflict, and the spirits couldn't care less. On others, both the people & spirits are doing just fine, but enigmatic Gods, almost lovecraftian in their scale and power, are causing strange interferences.
[10:39 AM] Panjumanju: I think that's an interesting call to action for players. What do the player characters look like?
[10:40 AM] Dan Davenport: (Just a heads up that I need to wrap up in 10 minutes.
)
[10:40 AM] Panjumanju: Okay then I'll throw out the last of my questions quickly…
[10:41 AM] Panjumanju: Again – sorry if this has already been covered – is your game out, coming to a Kickstarter, or how can we get involved? Finally, where can I go to learn more about your game, outside this Q&A?
[10:41 AM] Nemo: Players have 7 playable species to choose from, and their choice will have a radical effect on how they play the game. This, for example, is a Masked bard
[10:42 AM] Dan Davenport: (You'll be able to see the descriptions of all of the PC species when the log goes up in a few minutes.
)
1
[10:42 AM] Nemo: The game is now on Kickstarter! It has 7 days left for funding and it currently stands at 300+% of the goal! You can find the Free Quickstart Guide, the Kickstarter, and more over on the game's website: https://www.zinneverdies.com/Zin Never Dies – There are no fairy tales here…A world of masks and spirits, inspired by such classics as Princess Mononoke, pulling you into a world of fairy-tale charm and folk-lore darkness. Don't be fooled… There are no fairy tales here…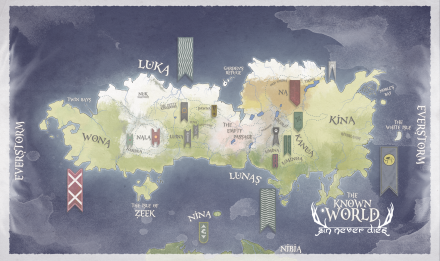 1
[10:44 AM] Dan Davenport: Thanks very much for joining us, @Nemo!
[10:44 AM] Dan Davenport: Usual reminder: If you've enjoyed this Q&A and would like to treat me to a coffee or two, you can do so at https://www.ko-fi.com/gmshoe. Anything's appreciated!
Ko-fiBuy Dan Davenport a Coffee. ko-fi.com/gmshoeBecome a supporter of Dan Davenport today! ❤️ Ko-fi lets you support the creators you love with no fees on donations.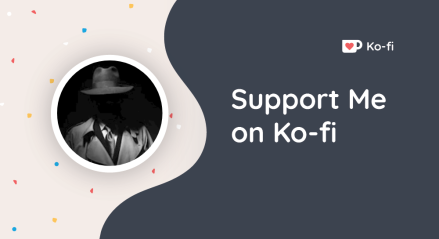 [10:44 AM] Nemo: It's been a pleasure
[10:45 AM] Dan Davenport: If you'll give me just a minute here, I'll get the log posted and link you.